THE Cub Report, 02.03.2014, Version- What a Boring Blow-Out Bowl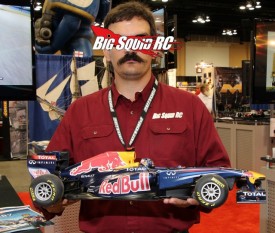 Hallo everyone, I hope you had a great weekend filled with rc, Supercross, with some time left over to watch the Superbowl. While the Superbowl might have turned out to be a one sided boring bowl, the Supercross on Saturday night actually was worth watching. Speedy Reedy took another surprise win in the 450 class, while 250 points leader Jason "Last Lap" Anderson traded some paint with Mookie and didn't make the podium. Speaking of Anderson, if you watched the SX Saturday night on Fox 1 he had a small feature on him and his rc trucks. Horizon/Losi are one of the sponsors of the Rockstar/KTM team he rides on, and they got some decent love on the telecast (they showed Anderson driving at an rc track with his Losi SCT). Once again it was super cool to see rc get some cross marketing exposure with the Supercross crowd.
Speaking of Horizon, they freak'n killed it at the Toy Fair in Germany. They didn't just have one "big" release, they had a number of them, and didn't have a stinker in the bunch. There have been a bunch of Horizon naysayers as of late, but if the Toy Fair is any indication, it looks like 2014 just might be Horizon's year.
Losi LST XXL2- Everyone suspected someone might try to beat the HPI Octane Savage to the marketplace and Losi/Horizon are the first to pull trigger on it. Props to the Horizon crew for green lighting the project, and hopefully they've done their homework so a good product hits the shelves. Now it's a race between Losi and HPI, the first one to dealer shelves is bound to make a LOT of money.
4wd ECXs- No, the ECX line isn't loaded with carbon fiber or a lineage of world championships, but it has become a solid line for the average user. To take the line up a notch they introduced 4wd versions of 3 of their popular trucks. The BSRC Bash Crew was stoked to see the 4wd versions announced, but we were even more stoked when we found out the price point- $239. We won't know if they are any good till we get our hands on one, but if they are, ECX better order up a couple extra Brinks trucks to handle the extra cash they are gonna make.
Losi 5IVE Mini Rally- It's not every day that a new 5th scaler gets introduced, so the 5IVE Mini rally car from Losi was "big" news. It also goes to show the dedication to the 5th scale market that Horizon has. There has been some question about Losi's dedication to the big scale class but the rally shows they still have more up their sleeves. While I am soooo not into the 5th scale scene, they deserve some props for supporting those that are.
Vaterra- The newest line from Horizon also had two new cool models, a freak'n gorgeous '69 Mustang, and a 4wd SCT. It seems that everyone is driving a 4wd SCT now days, so another entry into that market is welcome to see, while another "shelf queen that you can drive" goes to show that Vaterra is the brand setting the standard in how a car has to look now days.
I know that all sounds like a Horizon love fest, and yes, it was. But… when a company has earned the props, they should get some. However… one company that isn't getting any props this week is….
Traxxas- Oooofaaahhh…. their big news was a new 18th scale truck, the Teton. While the Traxxas fanboys were digging it, from my side of the fence it was a "look at how the mighty have fallen" kind of machine. You have Horizon putting out a bunch of cool new products that can be bashed just about anywhere, and then you have Traxxas putting out some little truck that looks like it was part of the Hi-Moto line-up (a decade ago). Ok, so maybe I expect too much out of the Texas crew now days, maybe they've got some things to sort out and they'll be back in full force. Heck, I hope that happens, I really do. Unfortunately it looks like we'll have to endure some more dark days until then.
Back to the brighter side of the Toy Fair…
ARRMA- Oh heck ya, ARRMA announced a big new 4wd MT and an 8th scale buggy. ARRMA is basically the "bashing" division of Durango and we have liked what they've done so far. Their two new 8th vehicles are aimed at ruling the roost at every bash spot across the globe, and are a huge departure from what they've put out thus far. While some of the bash crew lusted over the Losi XXL2 from the Nurnberg show, and others were all about the 4×4 ECXs, the ARRMA Kraton tops my list of "who do I have to bribe to get one of these in hands" vehicles.
Kyosho- Then you've got Kyosho, a company I love to hate on but they introduced multiple bash oriented vehicles in Germany. Heck, even I can't fault them for that. They showed a brushless 6S capable MT (Psycho Kruiser) and a pair of 7th scale buggies aimed right at a basher's heart.
Serpent- Ok, so you might not have owned many of these before, but Serpent is typically a brand that only sells the "best of the best" type vehicles. And what did they have on display at the Toy Fair? Their new monster truck, the Cobra MTe. So… even Serpent is putting out a super high-end monster truck? Seemingly there were new monster trucks everywhere at Nurnberg, could 2014 be the year of the basher? The year of the Monster Truck? Wouldn't THAT be something…
And lastly… Carisma is coming back to the states. Who in the heck is Carisma? You've seen us do a couple of reviews on their products, and you might have seen Carisma product distributed by Horizon in the past, but now they are back. They've joined forces with the Jeric Group, who is basically made up of a former big Horizon guy. Carisma products seem to be good to go for the basher market, but can an untested Jeric Group get them into the hands of the public?
That's it for this week, as always thanks for reading and support your local hobby shops and bash spots when ya can.
YOUR Cub Reporter