THE Cub Report- 02.05.2012- Version: Copious Amounts of Sarcasm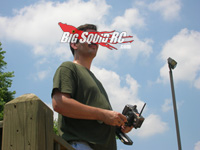 Hey ya guys, welcome to yet another wonderful week in our lovely hobby, and thanks yet again for reading BigSquid.
39 days, 15 hours, 18 minutes and 51 seconds till the cars roll off for the season opener in Formula 1. Just say'n…
If you are a noob and have ever wondered "What is the biggest rc race in the world?", well the answer is Snowbirds and it was held last week down in Florida. Snowbirds routinely pulls over 800 entries, enough entries where they run the on road classes during the day, and oval classes overnight, yes indeed the racing goes on 24 hours a day! The heavy hitters of the on road world were in attendance this year- Lemieux, Blackstock, Hebert, Haynes, and Matsukura just to name a few. Props to all the peeps that raced Snowbirds this year- for living the lifestyle and being core enough to keep on road alive through this rough patch it is having at the local level. On road rc racing will make a come back at some point that is for sure, I only wonder what the catalyst will be that breathes new life into it?
The second most uber rc hobby show on the planet (with America's iHobby leading the way) also went off last week, the German "Toy Fair" in Nuremburg. Luckily for us our homey Igor was there to shoot pics, rub elbows with the "in" crowd, drink fine beverages, and generally live the life of an rc journalist. I don't talk much about Igor, he's kind of the quiet but deadly type, but to boil it down he splits his time between Germany and the Chicago metro (seriously, I'm not just making that up like I do most of the stuff in THE Cub Report). Anywhos, the BSRC front page has been filled with his coverage of the show last week, props to Igor for work'n his butt off so all us rc nerds can see what the rc companies are up to.
So, to boil it down, what was the biggest news from the Nuremberg show?
1. HPI 8th scale gas engine– I've already gone over this one, it might be the best thing since sliced bread, or it might be an epic fail, we'll see.
2. Hot Bodies/HPI Comp Crawler– MOA (motor on axle) full comp crawler from the HPI crew. About time a big name gave Axial some competition.
3. Traxxas 16th scale Grave Digger– 4wd 2WD, big brushed motor, and monster truck tires should make this reincarnation of the 16th Revo chassis a blast to thrash.
4. Axial Ridgecrest– For those of you who like bash'n crawlers, this one's for you. It's not a comp rig, it's set-up for having loads of fun.
Also from the Nuremberg show- one of the guys in the Carisma booth was wearing a way super dope t-shirt. On the back it read "… If you shout at the marshals you're only identifying yourself as the moron who crashed". Now that is freak'n awesome! That t-shirt alone makes me want to support the Carisma guys. For you noobs who don't know who Carisma is- they sell some product under their own label, of which they are probably known best for their mini scale racers right now, but they also do a lot of OEM work for others brands. Chances are you probably own/have owned several buggies/trucks made by Carisma but never knew it.
Robin Schumacher is a remarkably cool guy that puts out some killer product. The Schu crew was showing off new upgrades to their 2wd Cougar SV2 off road buggy and Mi4 CXL touring car at the Toy Fair. I wish Schu still had an office and made more a push here in the states, they do have some cool gear… just say'n…
On a different note…
For our "Tuesday Review" this week we'll be featuring the Duratrax Evader Brushless 2.4 GHz RTR. This truck runs about $250 smackers and while I didn't get a lot of trigger time with it, it seemed like a fun basher when I drove it (read- attempted to destroy it). Brian and Bill beat the heck out of our test unit, so check back Tuesday to see what they broke and if it is worth your cash.
Also… this Wednesday night I'm inviting you, yes YOU (read- Y O U) to join the entire BSRC crew on our forums for a good ole' fashioned bench racing/smack talk'n/BS session. Brian, Bill, Jeff, Adam, Evan, and yes, even I will be there. At 10 pm CST (it's all about CST here because most of the BSRC crew lives in the Midwest, sorry East Coasters) Brian will start up a "Wednesday Night Smack Talk'n Thread" where we'll be talk'n about whatever comes to mind. So if you've ever wanted to give us hell, give us suggestions, or simply wanna read the ridiculousness that is bound to come out of our mouths (read- fingers) feel free to check it out. We want to hang out and have some fun, so come join us, we'll try not bore you to death. To boil it down- Wednesday, 10 pm CST, on the BigSquid forums, see ya there.
That's it folks. Support your local hobby shops (<- Seriously), tracks and bash spots!YOUR Cub Reporter