THE Cub Report, 02.14.2011, Version- The Tide Has Turned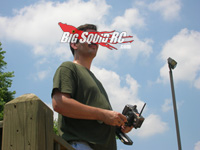 Ever notice that when James Stewart doesn't crash that he nearly always wins? Well… Saturday night in Houston, Bubba crashed twice, netting him a 15th place finish. "Sigh". But perhaps the bigger news was that Bubba's lil' bro Malcolm Stewart competed in his very first pro supercross in Houston (he raced the Lites class). Malcolm looked fast in his heat race finishing second, but seemingly took a cue from his big bro in the main (crashing his brains out) and finished 14th. With both the Stewarts putting on a crash-a-palooza, that left a great opportunity for some new faces on the podium. Trey Canard answered the call on his Factory Honda for the win in the 450 class (his first ever for the ever affable Oklahoma native), and Justin "Marcia, Marcia" Barcia bashed his Geico/Honda to the top of the podium in the Lites class. The east coast supercross schedule looks like they are gonna be some wild times, can't wait!
So…….. I've gone on and on and on about how rc "could" be headed for the mainstream. Several rc companies have been marketing to the masses, and we've seen lil' signs here and there that all that advertising might be working. Heck, in years past you'd Never see any hobby grade rc product on national tv, but now days it's nearly common place .
I work in marketing, that's really what I do to keep my flute full of Dom. Working in marketing, I know the difference between how ad campaigns are supposed to turn out, and how they actually end up working in the real world. The numbers may say "spend 20 million on a certain ad campaign and expect to boost sales by 10% for the duration campaign", but in the real world you may see no gain during the campaign and 20% for 6 months after it has stopped. A different type of campaign may be aimed at no increase in sales, but be focused specifically on changing your brands imagine within the market, with the results being measured by focus groups. In the real world, the focus groups may say your company actually got the opposite change in brand image that you were expecting to get.
The last 2 years, I've closely studied the ad campaigns from Traxxas, TT/AE, Kyosho, Tamiya, and Horizon/Losi. More than one of those companies has done an amazingly good job with their marketing (and it shows in sales), while a couple of those companies have done an amazingly poor job (and sales drop accordingly). But… even with the incredible marketing being done by some of the rc companies, I really expected it to take a couple more years for those ad dollars to really pay off by bringing in mainstreams to our hobby. IMO, I really really didn't expect to see hobby grade rc really hitting mainstream sales for another 2 years (if it was ever going to work at all).
Well……… it may just be a fluke, but I am seeing something I've never seen before. On casual drives around the burbs of my city, I'm actually seeing hobby grade rc's here and there. Today I saw two kids, probably around 10-15 years old, packing their trucks from their house headed for a dirt pile on the other side of the street. One boy was holding a Slash, the other boy had a Stampede. Both trucks looked pretty new, as if the boys got them for x-mas and today was the first good weather day for them to bust'em out. Having been in this hobby for over 2 decades, I have seen "random" people out bashing a half dozen times in my first twenty years in the hobby. But in the last 6 months alone, I can say I've seen over a half dozen "random" people out bashing. Just a coincident? Or is all that mass marketing by Traxxas, Thunder Tiger/AE and others already paying off?
So let's say it is paying off. Let's say that right now rc is headed for its glory days, for its apogee of popularity. For the normal Joe-Blow types, it means more guys to bash with, more guys to shoot the rc bull on the forums with, and new friends to simply enjoy the funnest hobby in the world.
For the core track types, it means noobs showing up. Noobs that now get in their way, noobs that given a few months in the hobby "could" end up faster than they are. Noobs that show up to a track represent a potential threat to the local fast guys. Unfortunately the local fast guys have the loudest voice at tracks, and they typically use it to run off all those potential threats. Local fast guys love to b!tch and moan to the track owners telling them not to hold "novice" classes, or classes where Stampedes would be legal. They yell and scream at noobs for their driving and their marshalling. Also unfortunately, track owners typically give in to anything/everything the local fast guy wants, afraid that if he loses the 20 hardcore racers he has now, that he'll go bankrupt. Those track owners never seem to see that losing the 20 hardcore guys could very well bring in 50 noobs.
In theory rc going mainstream should result in banner times for local tracks, but because of how rc racing is set up now days, that simply won't happen. Tracks will maintain the same 20 guys they've had since 92′, and local bash spots will explode in participation.
For local hobby shops, if rc hits its glory years, then it should be glory years for them as well, right? Unfortunately the world is a much different place than it was in 1990. Life is tougher now for your LHS than it has ever been for two reasons- 1. internet competition and 2. the vast array of changing models/parts. Back in 90′ your LHS had a reasonable chance of stocking pretty much every part for every popular vehicle on the market, but there is no chance of that today. Yes, surely rc going mainstream is going to be good for your LHS, but it'll still be a darn tough living for them.
In closing… so maybe it's just been a fluke that I've been seeing so many random noob rc'ers lately, but maybe we are actually gonna make it to the mainstream. If it is the case that rc makes it to the mainstream, it should be the glory years of our hobby, so I'm appealing to each and every one of you hobbyists out there- be cool with the noobs, you were a noob once too. Don't look at it like the noobs are a bunch of morons asking questions and getting in the way, look at it like what it really is- a chance to meet some cool new people that enjoy the same hobby as you do. Let's make the most of this you guys, we may not ever get another shot…..
Till next week, support your local hobby shops, tracks, and bash spots!
YOUR Cub Reporter