THE Cub Report, 02.18.2013, Version- Ron Burgundy Stole My Title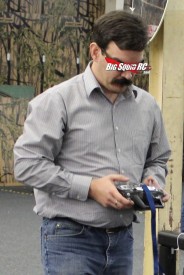 Hey guys, welcome to THE Cub Report, your weekly dose of rc bench racing and shoot'n the rc bull.
25 days, 1 hour and 42 minutes until the cars roll off in Melbourne, "sigh". It seems like it takes forever for the F1 season to get started.
The "big" story from Dallas last night (Saturday) was why rookie Honda/Geico rider Zach Bell was allowed to race after literally crashing his brain out in his qualifier. Bell's crash in his qual was one of the worst crashes I've ever seen (massive face plant after a triple), and from my big-screen it looked like he was knocked unconscious. Yes, racing is important, but not as important as actually breathing, remembering your name, etc. Seeing crashes like that (and Bell's other big crash in the main) makes me feel good that I'm only climbing drivers stands now days, not swing'n a leg over a 450.
And on to rc…
WireGate 2013 rages on, last week Jeff from Fantom sent out another response to the ROAR banning of Trinity D3.5 based 17.5 motors. It seems Fantom sent out a wire sample to an independent lab who used a Smart Scope MVP OGP and it was determined the diameter of the wire was .031556″ (.8015 mm). ROAR posted a now infamous pic showing they measured .84173 mm. One of the two doesn't know how to measure the diameter of a piece of wire, and at this point it doesn't really matter who, Trinity is the big winner here regardless of how thick the wire might or might not be. Congrats ROAR, the exposure you've given Trinity on this one is priceless.
In more rc news…
It seems a lot of consumers believe that the Champaign based behemoth Hobbico has "bought" HPI USA. We first "broke" the news a few weeks ago during one of our Google+ LIVE shows, but the news is that Hobbico/Great Planes is the exclusive distributor for HPI in North America, not that they own the entire HPI USA company. We've spoken to multiple Hobbico people at length (in person) on the subject and they assure us they did NOT buy HPI USA, they simply bought up their inventory and got exclusive distribution rights. It sounded like HPI USA was having some financial ills so Hobbico stepped in and bought their inventory to shore them back up. That is the official word right now folks, but we can expect to learn more on March 1st when the "official" PR goes out.
Also…
Last week we posted our BigSquidRC Transmitter Shootout #2. If you haven't checked it out HERE is the link. We certainly dig shootouts as we feel they are the best way of truly finding out how a product stacks up. Who won? The Futaba? One of the Turnigy's? The Spektrum? Hit the link!
We've been working on a Quadcopter Shootout for some time now. We grabbed the Traxxas, HeliMax and Ares quads and have been bashing them like escaped mental patients (all in the name of science of course, LOL). We finished up our testing at Slot and Wing Hobbies in Champaign Illinois on Saturday. Our categories were- 1. Price, 2. Looks, 3. Durability, 4. Payload, 5. Ease of Flying, 6. Run-time, and 7. Features. The quadcopter shootout goes up Tuesday February 26th, even if you are a surface guy you'll have a blast reading this one.
Lastly…
Another big week here on BigSquidRC, we'll be posting our review of the Vaterra Kalahari and TrakPower DPS power supply (plus another surprise review), we'll be posting all sorts of cool rc news during the week, and of course we'll be talk'n the rc smack on our BigSquidRC LIVE Google+ show at 9 pm CST on Wednesday night.
That's it for this week guys, have a fantastic week and support your local hobby shops and bash spots when you can.
YOUR Cub Reporter