THE Cub Report, 02.19.2012, Version- Head'n To Super H Mart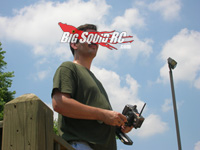 Isn't it amazing how quickly last week just blew by? Yes, it's Monday morning, time for THE Cub Report!
I know a bunch of you guys saw the Dallas Supercross over the weekend, and what an Epic race it could have been. RV2 and Chad Reed were look'n to put on a race for the ages until Reedy endo'd HARD. You gotta give it up for Reed, years ago Bubba was toying with him at Unadilla, but now days it's Reed that has the desire and speed to run with the best of the best on a weekly basis. Hopefully Saturday nights sic get-off doesn't keep Reed off the bike for long, he might be the only guy capable of keeping RV2 in check this season. Sounds like the world will know on Tuesday how long Reed may be out. Here's to hoping Reed is good to go this weekend in Hot-lanta.
Also here's to hoping that Bubba's brother Malcolm makes smarter decisions than he did last weekend. Malcolm pulled a bone headed block pass (read- full on HACK in rc speak) in Dallas that ruined not only his race, but also the race of Geico/Hondas Justin Bogle. Mookie has the talent and the speed to straight up win Supercross races, lets hope he has the smarts to do it as well.
The NASCAR year hasn't even "really" started yet and I'm already sick of hearing about Danica Patrick. Wow do I feel sorry for you NASCAR fans, Danica is everywhere and she's yet to race in the big show, and… I don't see the medias love of interviewing her tiring any time soon. I am Soooo glad she didn't land in F1.
Not a lot of huge product news last week in the rc world. The only "big" news was Motorama going on out in PA. I was asked to hit that event by 2 different companies, and even though that race/show/event has blown up to epic status the last couple years there is no way in the world I'm spending a week in Mid-Eastern PA this time of year. Hey, I really dig PA (particularly the Scranton/Wilkes Barre area) the other 3 seasons of the year, but their winters are freak'n brutal. Of course perhaps my hatred for winters in PA stems from the time I was stuck in my car along the side of I-80 for 20 hours during a snowstorm in early April there years ago. Any which way, I'm skip'n anything in PA till mid-June.
We've been hearing all kinds of crazy talk about some big names in surface rc going over to the darkside and putting out airplanes and heli's. I'm talking about the kind of "mainstream" surface names that will leave you shaking your head if they actually put flight stuff on the market. I've seen first hand a couple of air prototypes by surface companies, but don't know if they will ever make it to the marketplace. It seems some of the big surface manufactures have seen their sales dropping off the last few years, so they figure why not try their hand on the air side? Anywhos, don't be shocked if (read- when) you see a PR from a big surface company about their new heli/airplane. It may be considered sacrilege, and you may throw up in your mouth a little, but it could very well happen in the near future.
The companies are finally set for our next Lipo Shootout! The final line-up is… drum roll please… Traxxas vs HobbyKing (Turnigy Nano-Tech) vs Gens Ace vs Hobbico/Onyx vs Venom! All packs are 2S, and they are all pretty dern close to 5800 mah. Yes, this shootout is going to be EPIC, stay tuned!
Have you heard (read- there is no way you could not have), BigSquidRC is giving away our Traxxas XO-1 Supercar! Brian gets a little off his rocker sometimes, but I like it when he starts get'n crazy and giving away stuff like an XO-1! Yes, this is the actual XO-1 that we are using for our review, so it's not going to be a spring chicken by the time it gets in your hands, but even a rode-hard-and-put-away-wet XO-1 is better than none at all! Plus… our XO-1 will come plastered with BSRC stickers (some of which may be used for structural integrity… LOL).
Speaking of our Traxxas XO-1 review, it's going well (read- I think you know us and what we are doing… LOL).
Doing high speed runs with the XO-1 to see if it will actually do 100 mph or not- check. Hit'n ramps in the cul-de-sac- check. Hit'n up the skate park with it- check. Hit'n the dirt off road track with it- check! Huck'n it off the roof- well, not yet. LOL! To boil it down we are putting extra time into this review. I mean BigSquid is the center of the rc bashing universe and the XO-1 might be the biggest release since the Slash, and might be the biggest for years to come, so we are going extra huge with this review.
Ok, I've run out of stuff to ramble on with for this week, support your local hobby shops (read- they dig seeing you!), and support your local bash spots and tracks!
YOUR Cub Reporter