THE Cub Report, 02.25.2013, Version- THE Fig Leaf Edition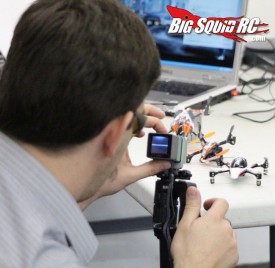 Happy Monday everyone and welcome to another week in the wonderful world of hobby grade rc. Whether you work at a manufacture or an LHS, or you are simply a hardcore enthusiast, I hope you have a great week.
Brian's favorite Supercross rider (lol), James "Bubba" Stewart, took the win last night (Saturday) in Hotlanta. Using his proven recipe of "holeshot then 20 perfect laps" Stew lead from gate drop to checkered flag. I've never been a big Bubba fan but even I was stoked to see him win last night. The wins came so easy early in his career, now they come so hard. I'd have to guess that the wins now days mean a whole lot more to him than they used to. Anyways, the SX circus rolls through St Louis Missouri this Saturday and the BigSquidRC crew will be there in force.
And on to rc…
Our first ever Quadcopter Shootout is going live this Tuesday. We pitting Traxxas against Heli-Max against Ares to find out which little quad was the best of the bunch. We've been flying (and crashing, and demo-derbying) the shootout quads for weeks finding out how they compared to each other, even if you aren't in the market for one I hope you find the shootout interesting. Oh and yes, I'm 90% sure the winner will surprise you.
Also in BigSquidRC news- we are hiring account reps. Some of the qualifications required are- you have to be kick a$$, you have to be able to sell snow to an Eskimo, you gotta be service oriented, and lastly, you gotta be hardcore about rc. If you are all (or some) of those things don't hesitate to shoot Brian an email (brian at BigSquidRC dot com). We are beyond slammed and seriously need the help.
It looks like ROAR decided their reputation hadn't been slammed enough this year, so they put out information saying they'll be using the new MyLaps RC4 system this year at most of the nats. To translate this to you guys that don't follow racing- the new scoring system doesn't work with all transponders, meaning some people will have to buy new transponders for the ROAR nats. This really doesn't affect that many people, however, it certainly shows that ROAR is busy screwing around with the dumb stuff (and ticking off more ROAR members) instead of fixing its core problems.
Sorta on that note…
The SCT class is "our" great ambassador to noobs, outsiders and main-streamers, can't we keep from ruining it?
JConcepts has been putting out some cool gear as of late for the bashing crowd, but, last week they announced their new "wheel dishes" for their scale short course rims. To translate this to the non-racer crowd- these are disc's that pop into the wheel to make the scale looking JConcepts SCT wheel look more like the "dish"' wheels that "racer types" run at the track. I'm not gonna bag on JConcepts here, they are making the wheel dishes because the "racer crowd" wants to buy them. However, who I am going to bag on is ROAR. While they are screw'n around with wire diameters and transponders there is something more important on their plate- making rules to maintain the scale integrity of the short course truck class. Every day it seems a little more "liberty" is being taken on short course trucks, give it a few more years and they'll look like UFO's (just like every other class).
It is in ROAR's (and the entire hobby's) best interest to maintain the scale look of short course trucks (and SCB's). ROAR has let the tires slide as they no longer look like anything authentic, the roof-lines on SCT bodies keep getting lower, and now dish wheels are trying to work their way into the class. For whatever unknown reason, racers still listen to ROAR, so they (ROAR) should be putting out rules to make sure SCT's continue to look like their full scale counterparts. There is a place for "anything goes" tires, wheels, and bodies, but it is NOT the SCT class.
Lastly…
What's going on at BigSquidRC this week? As mentioned earlier the Quadcopter shootout is going up on Tues, our review on the Venom Medion Dual Charger (the one with the speakers built in) will be going up on Thursday, and Brian should be posting a pretty cool car review this week as well. Oh and, as usual we'll be doing our Google Plus LIVE show at 9PM CST on Wednesday night. Last week was our best show to date, I think we are finally getting that thing worked out.
That's it for this week, support your local hobby shops and bash spots when ya can.
YOUR Cub Reporter