THE Cub Report, 02.26.2012, Version- XO-1 Mania!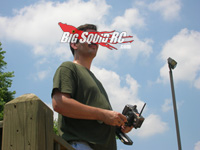 Arguably there has never been more excitement surrounding an rc car than the Traxxas XO-1– it is one of the most expensive rc cars ever released, it features more power than any sane person would ever ask for, and it has 100 mph stamped right on the box. So welcome to XO-1 week here on BigSquid.
Wednesday morning at 10 am CST we will be posting our full scoot BigSquidRC Traxxas XO-1 review. How fast does the XO-1 go in real life on real streets? Does the XO-1 actually turn and drive well? Can the XO-1 actually do 100 mph? Will an XO-1 instantly make you King of the cul-de-sac? Is the power even remotely controllable? How well does the new Traxxas transmitter work? What breaks when you flip the XO-1 end over end at 60 mph+? And most importantly, how well does the XO-1 jump (LOL)? We've put a lot of hours into our XO-1 review to answer all your questions and more. Seriously, you don't want to miss this review. Myself, Brian, Wrench, and Adam "The Intern" have been driving the XO-1 like we stole it for weeks now. We've been driving it everywhere from skate parks, to 1700+ feet abandoned roads, to cul de sacs. In other words, we tested it just like you would have- balls to the wall, having as much fun as possible!
Then… Wednesday night at Midnight CST we will collect all the final entries because we will be be giving away the Traxxas XO-1 we used in our review! Want to win a free Traxxas XO-1? Of course you do, so quick slack'n and get signed up to win, everything you need to know is at the top of our homepage! We will be announcing the lucky winner the following day on Thursday. I don't care how many rc cars you have in your stable, you've still got room for the Traxxas Supercar!
Btw, we've been told by Traxxas to "make certain it is clear that Traxxas does NOT sponsor and is NOT affiliated with this contest", so it seems they aren't real happy we are giving away one of their XO-1's. There are a LOT of things that make us different than the mags and I think our XO-1 contest is a prime example. But… how could we not give our XO-1 away? It is such a sic car we had to hook up one of our readers! We could get a zillion views on YouTube by driving it 80 mph+ into a brick wall, but we'd rather hand it to one of our readers, it's just how we are wired.
I stated last week that we had all our contestants for our next Lipo shootout…. I wasn't lying (I swear!), but during the week we got two more big names to enter, so add Orion and Dynamite/SpeedPack to the shootout list. Oh heck yes, our next shootout is gonna be epic, stay tuned, we start testing this week!
Speaking of the Lipo shootout… during our "Wednesday Night Forum Smack Talk Session" the BigSquid crew had a lively discussion on what the maximum rate of discharge in our Lipo shootout should be. Is 60 amps enough? Is 780 amps too much? Shoot us an email (or join us in the forum Weds night) with your thoughts…
Ok, enough self promotion, on to more rc news…
The "big" race last week was Joey Christensen's The Dirt Nitro Challenge at the Fear Farm out in Arizona. The premier class is 8th scale buggy at the Nitro Challenge, and the young guns have been put'n it to the old farts. 19 yr old factory HPI/Hot Bodies/Pro-Line driver Ty Tessman sits on pole for the A, while 15 yr old factory Losi/Pro-Line driver Dakotah Phend qual'd second. I am writing this before the buggy A-main has been run, but if you don't follow much racing the competition at the top of 8th scale nitro is insane. All the guys in the A (and the B, and the C!) can put their 8th scale buggies within an inch of where they want it, lap after lap after lap, at crazy speeds. The older I get the worse my eyesight and reaction times get, and the more I appreciate watching the younger guys pushing the limits of man and machine.
On another note…
The Axial EXO Terra Buggy has officially hit hobby shop shelves. A few early units made it out to Canadian dealers weeks ago, but finally consumers can get their hands on them here in the states. Scale buggy IS the what all the cool kids are driving this summer, have you jumped on the bandwagon yet?
That's it for this week folks, support your local hobby shops, tracks and bash spots!
YOUR Cub Reporter