THE Cub Report- 02.27.2011- Reed Is Back, Bubba Got Hacked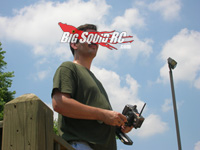 In rc we are used to getting hacked, meaning you go into a corner and the guy behind you rams ya and parks ya in the cheap seats. Shoot, "hacking" happens in nearly every corner of the local novice class. It's a bit more rare seeing "hacking" at the top level of AMA/Feld Supercross, but last night in Atlanta Chad Reed let it be known that he's in it to win it by hacked James Stewart late in the race in an attempt to take the win. The hack didn't go as planned for Reedy, as both he and Bubba hit the turf, allowing Ryan "The Leaping Leprechaun" Villopodium to take the win, but a bold statement has been made- Reed isn't backing down for Bubba ANY more. Last nights live airing of the ATL Supercross was epic to watch, expect even more exciting action (read- Bubba's payback!) to go down live on Speed this coming Saturday in Daytona, check your local listings.
I daydream. I daydream a lot. I daydream more than a middle school full of 7th graders the hour after lunch break. I daydream more than Brian after his 7th beer and 3rd Riddlin at The Tilted Kilt. This week I decided to share with you what I daydreamed about last week. In my daydreams, these things come across as actually being real……………..
Associated– Associated has not been first to the table in a long, longggg azz time. In my daydreams AE have just released an all new from the ground up SCALE 10th scale buggy, something that looks like it just came off a full size track. It's got scale rims/tires, shocks, and body, yet it drives like a dream on an rc track. Oh ya, and it lets all the air out of the tires of the Losi 22, making Losi look like they are idiots for releasing a new platform in a dead class. AE's new scale buggy takes over the world, and once again the world is right because AE is back to being in a market leader instead of the last to the big show.
HPI– The Savage platform has been wildly successful for HPI, but it's getting extremely dated. I mean, wasn't the original savage released a decade ago? Well in my dreams HPI has just released a totally updated Savage with huge big bore shocks, tougher parts, and more unique engineering from head to tail. It's tougher, meaner, faster, and just plain looks cooler, everything a great selling monster truck needs to be.
Traxxas- Traxxas paid the big bucks to Feld/Monster Jam to be able to sell Grave Digger/Maximum Destruction/Monster Mutt/etc bodies on their trucks. Unfortunately, Traxxas put these uber shells on their dated Stampede platform. In my dreams Traxxas engineered an all new chassis to go under those uber lids. Traxxas took a look at the full sized Grave Digger and just scaled it down for their rc version. In my dreams the scale Traxxas MT rigs have multi-link suspension, hefty axles, and multiple huge shocks. Not only do they look scale, but they are tough as nails, and jump like a dream (and they take over every bash spot in America).
Losi– In my dreams the Losi badge is only used for race specific vehicles, while all the other cars/trucks they sell get re-branded as Sportwerks/Electrix/etc. You will no longer see a Losi LST, it would be the Sportwerks LST, no more Losi Mini-T, it would be the Sportwerks Mini-T, and so on.
Pro-Line– In my dreams Pro-line makes a lot more than just bodies and tires, they also put out upgrade a-arms, shock towers, chassis, and esoteric progressive clicker shocks for Everything (from a T4, to a Mini-T, to an RC8). Oh and, they've forgotten all about that ridiculous "cab forward" craze.

Castle– In my dreams Castle liquid cools their motors and speedos- allowing people to run hard yet not overheat. They sell rc sized radiators, water pumps, tubing and fittings, making it easy for even a casual enthusiast to install their own H2O cooling system.
Kyosho– In my dreams Kyosho comes out with an all new 8th scale buggy platform, like something truly Earth shattering. Lay down shocks with clickers to adjust damping, no shock towers, all new a-arm set-ups, pretty much all new thinking from the ground up. Combine copious amounts of innovation with great quality, and Kyosho is back in the hunt again.
HobbyKing/Turnigy– In my dreams they quit overcharging for everything they sell, and go to an all new "Only .99 cents for everything you can pack with two arms" pricing strategy (with free shipping of course).
Novak– Remember how good the old Millenium charger was? In my dreams Novak jumps back into the charger game, but this time with a 500 watt x 2 charger that features advanced balancing features and a display that makes an iPad seem old school.
Duratrax– In my dreams Duratrax puts out a full line-up of bash worthy trucks, all of which are nearly unbreakable, all at price points that even make Redcat wonder just how the hell they are doing it.
Futaba– In my dreams Futaba has added an MP3 player, GPS, a radar gun, wireless internet, and video games to its uber new 5PK. Oh and, it features a high def display so those YouTube vids look pristine! No need to bring a laptop to the track if you have a 5PK!
Spektrum– In my dreams Spektrum totally re-works their 2.4 system, boosting range all the way up to that of a stock Traxxas TQ3. Spektrum goes from having the worst range at the track, to at least being able to control your car on the far straightaway.
Oh yes, I certainly have some crazy daydreams……
That's it for this week ya bunch of rc crazed animals. Support your hobby, drop by your LHS, and give your local track or bash spot a visit!
YOUR Cub Reporter