THE Cub Report- 03.04.2012- Version: All About The Street Cred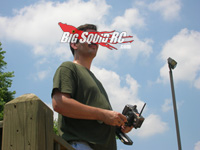 Two hours of rc racing action was on T.V. tonight, did you catch it? Yes indeed, the Documentary Channel aired "Carpet Racers" the movie (I am writing this on Sunday night 03.03 btw), marking yet another mainstream achievement for our hobby. No, the Doc Channel isn't even available to many Americans, but, they provided more rc racing action tonight than probably every other channel combined in the history of our hobby. Huge props go out to the Documentary Channel and to the guys behind "Carpet Racers" for getting our hobby some big-time exposure, every little bit helps.
What do uber 8th scale factory shoes like Kyosho's Jared Tebo and X-Ray's Josh Wheeler have in common with the BigSquid Bash Crew? It certainly isn't speed because Tebo and Wheeler would freak'n pwn us in a race, however we were all at the AMA/Feld Supercross in St Louis Missouri on Saturday. The 2012 STL Supercross was perhaps the most boring ever featuring wayyyy too many 90 degree corners, a one lined track, and very little passing, but it's still awe inspiring to witness guys like RV2, RD5, and Bam Bam lay waste to the mere mortals in person.
Btw, Supercross racer Kyle Partridge got sideways inside the over/under bridge Saturday during the final timed practice and broke his C3, C4, and also had one of the strangest injuries I've ever seen in mx/sx- he exploded his foot inside of his boot. Get well soon KP and lets hope this SX/MX season is finished breaking backs and necks. The 2012 SX season has been the worst I can remember for breaking spines taking out the likes of Michael Burne, Trey Canard, Ryan Morais, Tyla Rattray, Chad Reed, and now Kyle Partridge.
Only 11 days, 17 hours, 51 minutes and 12 seconds till the cars roll off in Melbourne. Is it just me or is the F1 off-season about 2 months too long? Viva Ferrari!
Huge congrats to BigSquid reader Duston D. from Mankato Minnesota for winning our Traxxas XO-1, I hope you drive it like you stole it and have a blast! Oh and Duston, shoot us pics ya lucky dog you!
Bench testing of the packs in our next Lipo shootout takes place this week while track testing starts this Saturday at RaceWorld in Indiana. Bench testing includes such things as testing capacity and voltage under load and is quite easy thanks to a West Mountain CBA. And while you might think track testing would be easy it's really very hard (seriously!). We blind test the packs, meaning that no driver knows which pack he is driving, and telling which Lipo is faster than another is not always that easy. The really fast packs are easy to pick and the really slow packs stick out like sore thumbs, it's the packs in the middle that can be difficult to separate. To boil it down, we've got a lot of track time ahead of us, and it's not the fun "Let's huck the quad every lap!!!" sort of track time, it's the "Ok, I gotta pay Really close attention at all times" sort of driving. Who am I kidding…. we'll still have blast, that's why we do BigSquid. LOL
Our kick azz March BashNess event kicked off last week and if you didn't catch it last year here's the scoop for ya. During week one of the event our readers vote on which trucks/buggies/cars they think should make the first bracket of 16, if you haven't voted feel free to tell us what your favorite bash machines are. Once we get our Sweet 16 trucks start going head to head in the voting to narrow the field to 8, then to 4, then to two, until our readers have finally selected their favorite bash machine for 2012. March BashNess is all about you guys, which trucks YOU think are the best bashers on the planet- your votes determine which trucks make the field and your votes determine all the winners. In the end one truck gets the brag'n rights as being voted the best basher on the planet by the people that jump and torture them every day, and at least one of our readers will be winning a brand new truck (maybe more than one person, we'll see). Have fun voting folks- if you are a big fan of Traxxas let your love show, if you dig HPI now is the time to show it, etc. Personally I can't wait to see some upsets and the final winner. Will a Losi or Associated even make the Sweet 16 this year? Will HPI take the crown again? Will a monster truck end up on top again or will it be a short course truck this year?
That's it for this week guys, support your local hobby shops, tracks and bash spots!
YOUR Cub Report