THE Cub Report, 03.04.2013, Version- Living All KCCO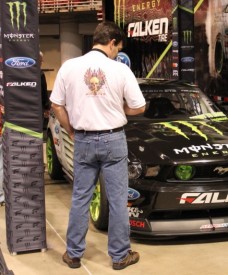 Hey gang it's Monday morning and time to bust out another work week. Wherever you are I hope you kick ass and the week flies by.
First up is some actual rc news, and relatively big news at that. We reported a few months ago about the Thunder Tiger eMTA. If you are a core basher you already know what it is, if not, it's a new brushless monster truck that features a rather futuristic chassis. Battery packs fit in the eMTA sideways instead of front-to-rear, it utilizes laid down shocks with a rocker arm system, and it generally has a much different look (under the hood) than a "normal" monster truck. Anywhos, the eMTA was first released overseas but now it's headed to our shores, a fact that has many hardcore bashers rejoicing. Not many "new" platforms get released in the uber monster truck category, so the eMTA is a big deal to those guys fighting for king-of-the-hill at their local bash spot every weekend.
Speaking of hardcore bash machines… our "March Bashness" contest is right around the corner. Of course we'll need your guys help filling out the starting bracket of the 16 top bash-mobiles, look for a post containing more info in the very near future. "March Bashness" talk around the office has heated up, we all have certain favorites that we would like to see make the sweet 16, but there are so many good bashers out there that making the top 16 isn't going to be easy. For example- long time bash legends like Traxxas and HPI have lots of great choices, but you also have to factor in some of the new faces like ARRMA, ECX, Vaterra, and several vehicles from Thunder Tiger.
Our last two March Bashness contests have been freak'n insane, I can't help but think this years is going to be the craziest yet. The #1 thing I've learned about March Bashness is- never underestimate brand loyalty, people go to great lengths to see there favorite vehicle come out on top.
And to another subject…
So… arguably the biggest news from last week was Trinity putting out a PR stating that they have (along with a few other companies that sell re-badged motors) sued ROAR. First things first- I have attempted to look up information on the case, you know, just to make sure it was actually filed, and I've yet to find that it exists in the real world. Ya, maybe I'm a total moron at using Google, so I'm going to ask you guys to help prove that I am an idiot. That should be easy enough right? Please feel free to shoot me proof that the class action suit was actually filed- links, a phone number, whatever. I'll gladly post the information next week and freely admit I'm a total moron (if you guys can come up with concrete info).
So… "if" the there is a class action suit against ROAR, there are a bunch of different opinions floating around. Some people say it's a disgrace to see it come to this, others are totally on the motor companies side, while ROAR fanboys are screaming how bogus it all is. Personally, I'm not a fan of either group, but it sure will be interesting to follow as it unfolds.
I would guess that a "worst case scenario" for ROAR would be that it ends up folding due to litigation. In case you haven't already heard, a group of four men have apparently started a "new" sanctioning body called RCRAA, "ready" to step right in should that ever happen . No doubt rc racing needs a huge overhaul, so whether or not ROAR ends up kick'n the bucket, perhaps RCRAA can help further the sport. The RCRAA guys say they are hoping to sanction races as early as this summer, best of luck to them, they've got a long, tough, nasty road ahead of them.
Btw… RC Pro Series is still up and running, if people think ROAR sucks so bad why don't they just support them???
Different topic-
So… over the weekend some of our moto industry friends gave the BSRC crew some VIP love at the St Louis Supercross. I am lucky and get to attend multiple rounds, but for some of our other contributors they just hit one, the St Louis event. This year the racing was as good as ever with Bubba, RV2, Bam-Bam and Reedy having a great battle in the big boy pants main. If you've never been, it's worth your time and cash to see these guys risking life and limb for your entertainment.
As many of you know, Traxxas has stepped up their support of AMA/Feld Supercross this year. In case you can't make one of the races, Traxxas has one of their try-me-tracks set up in the pit area and they get a short demo on the track right before the night show. At the STL round they had a pair of Revo's huck'n one of the triples. Unfortunately they could only double in and ended up breaking one of the trucks, not exactly an ideal performance in front of 50,000 people, but none the less, still better than nothing. Traxxas keeps going huge exposing the masses to our wonderful hobby, once again props to them.
That's it for this week folks, have a great week and support your local hobby shops and bash spots when ya can.
YOUR Cub Reporter