THE Cub Report, 03.06.2011, Version- Turn The Sprinklers On It's Time To Go Race'n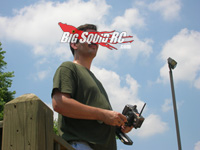 So what's the news???? Here ya go….
Geico/Honda rider Justin "Bam Bam" Barcia didn't win the Daytona Supercross (he finished second in the Lites class), but he did give Team Associated a big shout out from on the winners podium. Props to both AE and Bam Bam for get'n rc some huge exposure live on Speed channel Saturday night.
Bet ya didn't know BigSquid has an on-line swag store. Well we do, so we actually do sell stuff now. About a billion times at trade shows or other events, people would ask us "What do you sell?" and we always had to reply with "Ummmm, nothing!". Click the "BSRC Shop" link at the top of the page to show your love for BigSquid. Oh and… I hear Brian has some pretty uber "BSRC 909 Flatbill" hats on the way. Those hats should go great with your black Metal Mulisha shirt/shorts/belt-buckle, tall black socks and black DC shoes.
BigSquid has a review every Tuesday, so what's it gonna be this week? The Horizon/Losi Ten SCTE 4wd short course truck. After weeks of bashing and thrashing we'll give you the true verdict on whether it's the best thing ever, or not worth your time/money.
Billy Fischer may not be one of the biggest names in rc racing, but IMO he is the fastest overall racer in the USA. And just how can I say that? I can say it quite easily because his resume is as diverse as it is accomplished. Fish has excelled at everything from oval, to 18th scale carpet, to nitro 8th scale off road. If our "national championship" was determined by racing a half dozen different genres of rc, I'm quite certain Fish would crush it overall. Anyways, Durango made it official last week, Fish is racing for them now. Good for Durango, they landed one of the most elite racers on the planet.
X-Factory claims to have released Brian Kinwald from their team, but we all know that is impossible. You see "The King" BK is kinda like Chuck Norris- you don't release him, he leaves you. And when he does leave, hopefully he decides not to destroy the tiny planet you live on while doing so. Just say'n….
Thunder Tiger/Associated has some new uber "stencil" t-shirts and 909 hats for sale. I heard a rumor the shirts are individually painted by Bansky, and their flatbills are made out of 10 mm thick 6061-T6 aluminum (guaranteed to remain perfectly flat Forever).
Venom announced last week they are releasing a new transporter race case. Should be all good right? Ummmmm, no. Now this isn't a beef just against just Venom, this is my beef with the entire industry- all those race cases cost too much and they ALL break after 6 months. PLEASE quit sourcing those things from the same company. PLEASE source them from someone else that uses heavier frames, heavier boxes, and costs half as much. Thank you.
That's it for this week. The weather is slowlyyyy turning nicer, so try and get down to your LHS for a new car or truck, then hit your local track or bash spot to "break" that sucker in!
YOUR Cub Reporter