THE Cub Report, 03.11.2013, Version- Paint it Black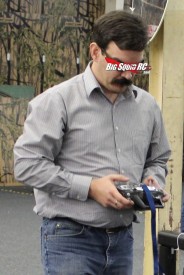 Hello everyone, welcome to THE Cub Report, and I hope all you guys have a great week filled with trigger time.
First up- we are still looking for an account rep (or two, or three). The job involves being a kick a$$ guy (or gal) and taking care of our advertisers. If you know what's up in the hobby shoot Brian an email. If you can't figure out his email address chances are you can't handle the job. LOL
Second up- Wavy Davi gave up the red plate last night in Daytona, "sigh". 2013 was a breakout year for Millisaps in the big boy class but it seems a couple of injuries have thrown a monkey wrench into his plans for supercross domination. Lets hope RV2 doesn't win out and make the rest of the season a bore. Btw, it was sure refreshing to see bright red Honda logo's at Daytona instead of the Monster claws plastered everywhere.
Third up- The Formula 1 season is officially here! 6 days, 4 hours, 17 minutes and 51 seconds till the tone goes off in Australia for the first GP of the season. Alonso FTW, bank it! And… it should be interesting to see how the tv coverage on NBC Sports stacks up to previous years when it was on Speed and ESPN.
Fourth up- Don't forget our Google + LIVE Show this Wednesday night. Last week Brian was wacked out of his gourd on Red Bull and Pez and couldn't make the show, so this week expect something extra special from him. But seriously, we always seem to say something that ticks off half the rc community each week, so it can't be all bad. Mark it down on your calender for 9 pm CST every Weds night from here on out.
Fifth up- The BIG news of the week is that BigSquidRC March Bashness is under way! If you are a new reader- March Bashness is the ultimate contest where you guys select the top bashers of the year, then just like in the basketball version, we do bracket style eliminations (based on your voting) to determine which is America's favorite bash vehicle. Voting for the initial "Sweet 16" is going on right now, click THIS link to get all the info on how to place your vote.
Hands down, March Bashness causes the most smack talk around the BigSquidRC offices. Brian has his favorites, Jeff has his, Bill always gets in his two cents, Craig lets it fly on his picks, Adam gets quite adamant about his fav, and of course I live to state the 82 reasons why my top bash-mobile is better than theirs. Here is a quick Cubby break-down on how I see March Bashness stacking up-
Axial- Axial doesn't have a dedicated "racer" in its line-up, every vehicle they make can be considered a legit bash-mobile. Perhaps leading the pack for Axial would be the EXO and their new Jeep Wrangler.
ARRMA- The ARRMA Granite took home our "Basher of the Year" award (which was voted on by the staff here) for 2012, so it has got to be considered a serious player in March Bashness. The rest of their line are also bash-mobiles, so perhaps another one (or two) of the vehicles might be in the starting sweet 16. The ARRMA brand has been picking up momentum among the bash main-streamers, and it's well known ARRMA is the "basher line from Durango", so the odds of an ARRMA doing well in March Bashness look pretty darn good.
ECX- Mainstays like the Torment and the Ruckus have really taken off with the bash crowd, I would expect to see at least one go deep into the tournament. One of the new 8th scale buggies from ECX might also make it into the show.
Duratrax- Duratrax is known for their bash-mobiles, but they haven't had many new releases the last few months.
Traxxas- There is no doubt Traxxas is the sales leader at local hobby shops and one of the highest regarded brands in the entire bashing world. Traxxas has several vehicles that should be capable of making it deep into the tourney. Their new LCG 4×4 Slash and Rally Car might very well be players in the big show.
HPI- Arguably the second biggest name in the bash world is HPI, and once again they have a half dozen vehicles that are enormously popular among the bash crowd. Their 5th scalers have an insane cult following, as does their Savage series of monster trucks. Will the Block Rally Car make the show? We'll find out in just a few days.
Helion- The crew from Firelands Group took home a controversial win with their Helion Dominus last year. For 2013 they've got a new truggy and a monster truck on the way, but with the depth of the field it will be incredibly hard for them to repeat again this year.
Thunder Tiger- Just a few scant years ago Thunder Tiger was looked down on like their cars were made by Tyco. Now days, things are a lot different. Some key changes in their product line-up combined with a much improved marketing plan have resulted in a whole lot of happy Thunder Tiger owners out there. It is also a brand that many Traxxas haters have fled to. I would have to think their MT4-G3 and eMTA monster trucks will be in the hunt, as well as the truggy they released last fall.
Associated- Ummm… while their parent company is looking so good among the basher crowd, Associated has focused on re-hashing old platforms for the race crowd and fell off the face of the bashing planet. Certainly AE is still considered a good name in the racer game, but it is increasingly rare to see anyone actually bashing an Associated product.
Vaterra- The newest kid on the basher block is Vaterra. We've only gotten the chance to bash their little scalers and both of them took a pretty good beating. I would think their biggest threat to take home the March Bashness title would be their Twin Hammers crawler/basher, but I've yet to drive one, so I have no idea if it's worth owning or not.
Losi- The 5th scale Losi 5T is a well regarded bash machine, as is their SCTE 4wd short course truck. Who knows, a Losi might just surprise some of us and make it deep into the bracket.
RedCat- There are a Bunch (an insane amount actually) of RedCats sold each year. Will they get enough votes from their hardcore army to make it into the show? RedCat has yet to place a vehicle into our sweet 16, will this be the year the RedCat faithful put a rig into the big show?
There are a bunch of vehicles I haven't mentioned that might very well make it deep into the voting. I feel like I was only scratching the surface, there are simply a ton of great bash machines on the market right now. Everyone on the BSRC crew hopes that you take the time out of your busy day to vote for your favorites, wear your brand loyalty proudly, and show not just the other readers of BigSquidRC which machine is your favorite, but show the entire industry what machines are hitting the mark with the bash crowd. We don't do the voting to try and spam you or get your email address or phone number, we do it simply because we want to learn exactly which bash vehicles are the best ones in YOUR eyes. This is entirely your vote guys, we hope you have a blast with it.
And on to…
Sixth up- Last week I asked for you guys to shoot me proof that the class action suit against ROAR actually exists. We have yet to receive anything from anyone other than the original PR. Are the courts just that slow down in Florida or….. Ya guys, if you can dig up some concrete proof the the suit is legit shoot it to us so I can post what an idiot I am for even having questioned it.
Seventh up- Adam "The Intern" has a new job around here- he's the head of our New BSRC Tumblr Page. Look for a post on our front page early in the week with a link so you can check it out. Tumblr is the big player of social media with the "young" crowd and Adam has tons of cool pics and things to share with the sub-20 crowd. If you are "young" (in body, or at heart) and looking for something more your style, checking out the BSRC Tumblr page should be a must.
That's it for this week folks, support your local hobby shops and bash spots when ya can.
YOUR Cub Reporter