THE Cub Report, 03.18.2013, Version- Life Is Always Better In Spurbury Vermont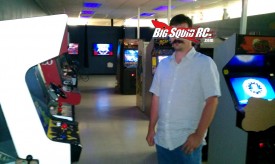 Happy Monday morning everyone, and welcome to another week in rc.
Thankfully the F1 season kicked off last weekend. After qualifying it looked like yet another run-away year for the Red Bull team, but when it was all said and done my favorite robot Kimi Raikkonen was standing on top of the podium. The Ferrari team also gave me some reason to cheer. The last few years they have started off the season with cars obviously off the pace, but last weekend they walked away with the points lead and looked to have top notch machinery. Might this season end with bright red on top? I can only hope so.
And on to rc…
March Bashness is here folks. The Sweet 16 have been picked (by you, our readers) and the real voting gets started this week. Let me go "on record" with my picks for the top 3- Axial EXO, Vaterra Twin Hammers, and the Thunder Tiger MT4-G3. We'll know in a couple weeks just how far off I am, but be sure and vote for your favorites and enjoy the fun of a bracket style elimination tournament for rc.
Yes, I was wrong. Yes, I am a total, complete, utter idiot. One of our readers shot us a link for the lawsuit info between Trinity (and friends) and ROAR. We posted the link on our BigSquidRC G+ page so that you can check it out too. To boil it down, the motor guys filed an injunction to force ROAR to include their motors on the "approved list". WireGate just keeps getting more interesting all the time, and there should be a lot more to come on this one..
Rally car shootout? Oh no we didn't, oh yes we are! Yes, work has begun on our BigSquidRC rally car shootout. Traxxas vs HPI vs Thunder Tiger vs Kyosho- yes indeed, this one is going to be a burn burner. We'll post more information about it when we get closer to posting it, but I'd look for it around the second week of April.
I hear our homie Stephen Bess is still under the weather, so here's a shout-out to Stephen to say that the entire BSRC staff is thinking about him and hopes he get back up to full speed reallyyyyy soon.
Adam "The Intern" has been posting some cool pics over on the BigSquidRC Tumblr page. I am soooo not into Tumblr (or Facebook), but it's cool seeing what Adam puts up. It's been a long time since I was 18 years old, and well, a long time since anything in rc was "really new and cool" to me, so it's sorta neat to see his youthful exuberance. Adam has literally hundreds of cool pics and projects that he has worked on to post, I hope some of you guys check it out.
Speaking of Adam, he's just about to graduate high school. The first time I met him was about 6-7 years ago when he was just a snot nosed kid. Even back then he was an incredibly die-hard (and I mean die-hard) rc fanatic. Now days he still is hardcore rc, but it looks like he won't be going into the hobby as a profession. Adam works hard, has his head on straight, and has always went wayyy above and beyond for anyone that needed anything, he's always been a good guy to be around. Not to mention he's thick skinned- having put up with our constant verbal jabs over the years. It certainly wasn't easy for him to be an "intern" for the BigSquid bash crew, as we are all professional bull-talkers, and we certainly shot our best at Adam.
So what was the point of the above paragraph? Because of his vigor for the hobby I was surprised to hear Adam wasn't thinking about pursuing it as a career after graduation. But… he's a grown man with a good head on his shoulders so I'm certain he is going to kick ass in the field that he goes into, all the while enjoying the rc hobby in the years to come. If you any of you out there reading this are also young and thinking about what you might want to do after you get out of school, yes, the rc hobby is a lot of hard work and often times not a lot of pay, but it can certainly be quite rewarding. Whether it be on the manufacturing side, the media side, the marketing side, the engineering side, or working the counter at an LHS, this hobby provides a living for thousands upon thousands of people across the globe. And… I'd bet "working in the rc hobby" is rarely, if ever, mentioned by any school guidance counselors. Pretty much whatever you might be good at, there is a place for you in the rc industry if you should chose to go that direction. Just take a look at the job listings at Hobbico, Horizon, or Traxxas if you don't believe me.
That's it for this week ya'll, support your local hobby shops and bash spots when you can.
YOUR Cub Reporter