THE Cub Report- 03.25.2012, Version- My Fibonacci Spiral Of Sarcasm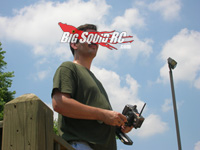 The bells are once again ringing in Maranello, Ferrari has won yet another Grand Prix. Kudos must go out to Fernando Alonzo and the entire Ferrari team for putting the prancing horses on the top step of the podium in Malaysia over the weekend. The 2012 F1 car from Ferrari hasn't shown much promise, but over the weekend it proved that Ferrari are always a threat.
Our March Bashness tournament has once again blown up into quite a spectacle, I mean who would have thought that there would not be a Traxxas nor an HPI product in the final four? For you guys, our readers, I hope you are having a blast voting and watching the results, and it's been a lot of fun for us around the office as well. And not only fun, but we've been getting into all kinds of interesting email/text/phone discussions with industry types. You see the industry guys not only like to vote but they follow our March Bashness as a type of barometer for how the market is trending amongst the bashing crowd. So while Traxxas product is still flying off the shelves to noobs, our March Bashness indicates that their product isn't as sought after by the not-so-noob crowd. Or… maybe Traxxas not making the final four is more an indicator that much of their product line is getting old and stagnant, desperately needing more than face-lift, needing total redesigns from a blank sheet of paper to capture consumer interest again. No doubt their Revo platform is showing its age, as are their Stampedes. And yes, the same can be said about the Savage platform from HPI and dozens upon dozens of other platforms from other manufactures.
So you guys have determined our March Bashness final four to be the Thunder Tiger MT4, ECX Ruckus, Helion Dominus SC10, and the Losi 5ive-T. Who would have thought- two Horizon trucks, a Thunder Tiger, and a Helion (that's only available from Hobbytown USA's) in the final four? Out of those 4 I've owned/driven/thrashed 3 of them. The Thunder Tiger is a big old monster truck with crazy power that likes flatlanding to pavement from 20 foot high. I've had a lot of fun with a Ruckus as well, while not crazy fast it sure was fun ramming Brian in the leg with till he started cursing (btw- he never curses which is why it was so much fun). Lastly, I had a lot of fun driving full speed down the main straight (repeatedly) at Jakes Race Place with the Dominus and pounding it straight into the wall at the end. Yes, I must be sadistic to enjoy destroying things so much. 😉
Speaking of sadistic- huge props to Jeff for doing all the work on March Bashness, I know it takes a lot of time, but it has turned out awesome again this year.
Where the H E L L is our BigSquid Lipo Shootout #4 at? We've gotten some downright ugly emails wanting to know what's up (including from people that work here! LOL) so I'll tell ya what the hold up is- the two main guys responsible for posting the shootout (read- me and Brian) have both been out of town AND sick. So… the Lipo Shootout is hit'n the front page around Wednesday this week. Seriously, it's our number 1 priority to get up this week.
Oh… for all the industry peeps out there… April 1st is coming up, and just like always PLEASE remember the spirit of April Fools BEFORE having your lawyers call us, Thanks in advance!
The Cactus Classic went down last week, so just fyi to all the racing folks out there- the only people that care about the UFO classes (race classes that do not resemble anything in real life) are local A-main racer types, the other 99% of rc'ers out there only care about the results of the short course classes. That should be obvious to anyone that's spent more than 5 minutes at a local bash spot or hobby shop in the last year, but it seems I have to blatantly put in print for some to finally get the memo. So… when you send your high zoot factory shoe to Cactus and have him run 5 classes, 3 of which nobody cares about, you are wasting a lot of time and money. Just say'n…
We've got some uber BigSquid reviews coming up in the next couple weeks- look for our take on the HPI Apache C1 Flux, Traxxas 1/16 Grave Digger, and the Duratrax VW Baja Bug. We've had them in hand for a while, driving them all like Stevie Wonder would, so needless to say each has had a Rough life (LOL). The reviews will be worth reading as we've upper our testing torture factor for 2012 (if they aren't broke we aren't done testing yet). Yet another reason to keep your eyes peeled on our front page.
That's it folks, vote for your favs in our March Bashness Tourney, hit up your local hobby shops, tracks and bash spots!
YOUR Cub Reporter