THE Cub Report- 03.28.2011- Some People Just Don't Get IT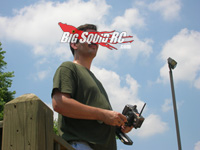 Hello rc community, yet another week blown right by us.
Monster Supercross update? Well….. Bel-Ray/Shift rider Chad Reed left Toronto Saturday night with the points lead in the Supercross class. Reed had a horrible 2010, and not many thought he'd even be in the hunt this year, but he's proving otherwise. Reed finished second in Toronto, vaulting him into the points lead when it matters most- nearing the end of the season.
RV2 went into Toronto with the points lead, but had a horrible race (for the second week in a row) and finished up 9th. Ryan got a bad start in the main, then had a "racing incident" with Bubba on lap 3, he also pulled into the pits for a repair- put those three things together and he was lucky to break into the top 10 by the time the checkered flag fell.
Bubba also had his issues, dropping his bike in the first corner, then the RV2 incident, but eventually he worked his way up to 4th. Bubba can still win the 2011 SX title, but he has to be absolutely flawless the rest of the season, something he has been a lot of trouble with this year.
The star of the race was last years champion Ryan Dungey, who picked up his first win of the season in Toronto. Many "insiders" picked Dungey to win the 2011 title, but a broken chain dnf earlier in the season has kept Ryan behind in the points. It ain't over till it's over, Dungey is now second overall in points and is well positioned for his run at the title.
Formula 1 update? Well the opening round from Australia is now in the books, and it was one of the most boring races I've watching in some time. Vettel pwn'ed the field, with the biggest surprise being the big Russian Vitaly Petrov placing 3rd.
I saw the movie "Sucker Punch" the other day. There is bad, then there is unwatchable, then there is Sucker Punch. Yes, it is that bad. If you feel like going to watch it- rub your eyeballs with a brillo pad, then pour battery acid in them. Trust me on this one, that would be more fun than watching Sucker Punch.
BigSquid has been making the news lately with our "March Bashness" event/poll/contest. Around the office we thought it'd be some little competition determining what our readers think is the best basher on the market, but it has really blown up. Thanks to everyone who has voted so far, and feel free to spread the word to your rc comrades. Voting for the final 4 is going on now, with the finals starting on Tuesday morning. (Or do like we have around the office, placing little "wagers" on who we think are going to win!)
Anybody else miss Mike Walkers Twister motors? Back in the day they were some of the best available, they ripped hard! Maybe somebody cool will buy the rights to the name and do something special with it…. I do like to dream don't I?
JConcepts shot out a PR last week about their new officially licensed 2011 Ford F-250 Super Duty body intended for Traxxas 2wd and 4wd Stampedes. Sweet looking body from Jason and his crew, but perhaps even better is their new body lowering kit for the Stampede. The JConcepts lowering kit includes new body mounts that position the truck body closer to the chassis for a more realistic look. The Stampede looks sooo much better with the lowering kit, I hope one ends up on every Pede ever made.
Air Age Media (pubs of RCCA) have decided to expand their RCX hobby show to other cities this year. Strangely they've chosen to host an RCX less than 2 months before the iHobby expo, and hold it in Chicago. An RCX show 6 months before (or after, same difference) iHobby makes sense, but less than 2 months before and in the same city, now that's just begging for a flop. On a better note- Orlando Florida will also be getting an RCX show, which should work out well. Floridians are freak'n rabid about rc, and most have never hit a hobby show before, so it should blow up huge. I dig trade shows, and consumers have proven they dig'em too, so the more the merrier (if the venue and dates are well thought out anyways).
The Cactus Classic was quite interesting this year. Seeing "The Dirtinator" Kinwald under the AE banner was interesting (and Awesome!), seeing Mark Pavidis with his head shaved was interesting (he looks tough that way), but….
Some people just don't F'n get it. At Cactus some of the A-main uber factory shoes didn't think their Pro-4 SC trucks could complete a 10 minute main without smoke'n their motors, so the race director held two 5 minute mains instead. Yes indeed, 4wd short course trucks arguable present the toughest load to a power system of any class. But…. how big of a pu$$y are you to say your equipment can't make a 10 minute main now days? Seriously, grow some stones guys… drop a few teeth and let'r eat.
To finally digress, some people just do Not get brushless and Lithium technology, and some of these are considered among the elite in the rc community. Some people are stuck in the year 1990 thinking a 5 minute race is all an rc car is capable of. It's sickening to us that do "get" BL and Lithium tech to see old school racer types (especially those that are factory guys that carry more influence) not be able to make more than 5 minutes, yet claim that running on 3 or 4S is "too fast". These guys have no problem gearing their 2S systems to the point of warp core meltdowns, yet are scared to even try a high cell count system for fear it'll be "too fast too drive". They just don't get it. But I do know this- if I were the race director at Cactus and someone came up to me complaining they couldn't make a 10 minute main, I'd have no problem getting into the computer and bump'n that sucker up to 20, just for good measure. 🙂
That's it for this week folks, support your LHS, local tracks and bash spots!
YOUR Cub Reporter