THE Cub Report, 04.01.2013, Version- The Higgs Boson of RC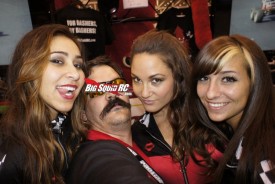 Happy Monday everyone and welcome to another exciting week in the wonderful world of rc. I hope you all got some trigger time in over the Easter weekend, we were fortunately to have good enough weather to bust out a bunch of packs. Unfortunately, both F1 and Supercross were off over the weekend, leaving the basketball Elite 8 games to fill up my enormous tv. Thankfully Supercross is on like Donkey Kong again this weekend.
So here is the big news for the day- BigSquidRC has official switched over to being a "racer" site. Yes, I know that might not be the best of news to some of you readers (actually, it will downright offend some of you), but we've decided that racing is where it's at right now. The tremendous surge in sales of racing gear, along with the enormous popularity of all the sanctioning bodies, has proven to us that instead of being a basher site that we need to go all racer. I hope you are just as excited about this as I am, and I hope you are looking forward to all racer news all the time now from BigSquidRC.
In other news… the BigSquidRC crew will be covering all of the remaining ROAR national events, the IFMAR worlds, as well as the RC Pro Series national finals. We'll be loading up Brian, Jeff, Tim, Bill, Craig, and tossing Adam in the trunk, to give these prestigious races the coverage that they so rightly deserve. Expect full coverage of the practice days, as well as up to the minute updates during quals and the mains. We are incredibly stoked to be bringing you a full weeks worth of intensive coverage per event. Brian is lined up to do all the videos, Tim and Jeff will be handling the pictures, while Bill, Craig and Adam will be searching out all the latest trick parts and hot news from the pits. Like I mentioned earlier, with our new format we'll be all about racing from here on out.
March Bashness is still going off here on BigSquid. As I write this (Sunday evening) it looks like the Traxxas Summit is going to pwn the Vaterra Twin Hammers in one of our final four match-ups, then voting starts for the HPI Savage Flux and Traxxas Slash 4×4 tomorrow (read- today/Monday). I had personally thought the Twin Hammers was a lock to make it to the final, but all those pesky Traxxas fans have been voting in force.
Speaking of the Vaterra Twin Hammers, our very revealing review goes up on Tuesday. We've spent more on the Twin Hammers review than perhaps any other vehicle we've ever tested, mainly because it is so unique. Is it really a crawler? It is just a trail-truck? It is a perfect "all purpose" bash machine? Or is it simply a hodgepodge that is average everywhere but excellent at nothing? Yes, this paragraph has been one big tease, you'll have to tune in on Tuesday to find out if we thought it sucked, or if we thought it kicked ass.
On a serious note, the BigSquidRC crew will be invading the Weak Signals RC Expo in Toledo Ohio this Saturday. If you are in the area we invite you to come on by and say hello to Brian, Tim and myself while we roam the arena doing show coverage. For those of you that may not have heard of the Weak Signals show is it primary an rc airplane event, but, it is a selling show, which draws a TON of people and makes it a whole lot more interesting. How many times have you went to a show and seen some incredibly cool looking gear, but then found out that you can't buy it and take it home with you? At a "selling show" a lot of the booths (but not all) are actually selling their products, making it a whole lot more awesome. Anywhos, HERE is the link if you want to check it out.
That's it for this week guys, as always support your local hobby shops, practice as much as you can at your local tracks, and race as many classes as you can.
YOUR Cub Reporter