THE Cub Report, 04.02.12, Version – Bam Bam the Melt Down Machine!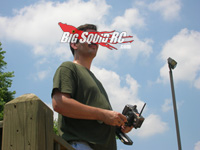 Hello fellow rc'ers, welcome to yet another titillating edition of rc's most vitriolic weekly butchering of the English language, THE Cub Report.
As I am writing this on Sunday night April 1st I soooo could have kick'd out an April Fools column but we did such a good job with our April Fool posts that it would have been overkill. Maybe next year we need to do a contest and use reader submitted April Fools jokes… hummm… yet another awesome Cubby idea.
Speaking of April Fools jokes, the post we did Saturday morning on the new Traxxas 8th scale drag car was NOT one. Yes indeed, Traxxas will be releasing an all new from the ground up 8th scale 2wd electric powered drag car. As usual on any huge rc news I text messaged and emailed my inner circle to get their knee jerk reactions. One uber industry insider type shot me back a response of " Gotta hand it to Traxxas, they're now the absolutely UNDISPUTED leading company in the RC car industry today." Another one of my inner circle guys wrote back "Seems like a waste of resources… where is there to drag race other than bashing up and down the street?"
It's certainly true that rc drag racing has been a relatively small niche scene for years, but anything that Traxxas lays their hands on is bound to blow up to a certain extent. In the Chicago area we are lucky there are two places to drag race every weekend with literally hundreds of people blasting down the 132 foot lanes, but the rest of the country is comparatively dry. Traxxas entering the rc drag arena might very well change all that. Or, it is quite possible their new drag car might be wayyyyy overpriced and end up like their XO-1, a statement piece intended to be sold in limited quantities.
The thing I personally find most amazing about this Traxxas Funny Car thing is simply the money aspect of it- is it really possible that Traxxas has sold enough rc products to sponsor everything that they do and put out statement pieces just for kicks? Well I certainly guess so. Traxxas must be absolutely swimming in cash right now. Good for them, they made it, they broke out, they jumped ahead of the pack and sprinted ahead for the win, leaving Associated, Losi, HPI, etc, etc, etc in the dust. And by being in the place they are right now allows them the luxury of putting out cars like the XO-1 and their new funny car.
One last note on this subject- Brian had the info up on the new Traxxas drag car on Saturday morning then Traxxas called him and told him to take it all down. Brian being the good guy that he is took it down. Now every other website on the planet has it up except for Bigsquid. Thanks for always being the good guy Brian. "Sigh". Oh, and for the record, in January we posted the rumor on Traxxas releasing a Drag Racing System. For all those out there claiming they had the scoop on Saturday, your 2000 and late! 🙂
Did you see we finally posted our BigSquidRC Lipo Shootout 4? Yes, we finally got off our lazy rear ends and posted it, we hope you enjoy it. Btw, we've gotten a lot of emails wondering why we didn't test this pack or that pack, and the answer is- because we asked for 2S 5800 mah packs from the manufactures and we tested what they sent us. Thanks and have a nice day.
We've also received a lot of emails wondering just how in the H E double hockey sticks did the Helion Dominus make the finals of our March Bashness tournament. Well, it's pretty simple folks, the hottest market segment out there right now is 4wd short course, precisely what the Dominus is. Plus… it's waterproof, it's 2.4, oh and it cost right around $200. No, not it's not an uber carbon-fiber'ed-out brushless race truck that most seasoned hobbyists would buy, but it is a perfect truck for all those mainstream marketing noobs peaking their heads into our hobby right now. For those people it hits the nail right on the head and they voted it right into our March Bashness final. If you haven't poked your head out from under the rocks lately there are a lot more noobs than usual running around, and it looks like they are digging their Dominus trucks.
Speaking of March Bashness, our voting ends tonight with YOU guys determining the winner between the Thunder Tiger MT4 and the Helion Dominus. We will be giving away one of each truck and I can assure you that your chances are MUCHHHHH greater than winning the Mega Millions lottery, so go vote and register.
See the pic of the full size Associated buggy from last weekends Lucas Oil race we posted on the front page? Now that is one of the coolest things I have seen in a very long time.
Speaking of scale buggies… Brian and Wrench were busy testing the new HPI Apache C1 over the weekend. So far its not doing very well, which should make for a very interesting review. HPI has put out a lot of great vehicles in the last few years, it's not looking like the Apache is going to be one of those. When Bill "Wrench" can't get a wheel off to fix a bent CVD I can promise you the review isn't going to end well. Bill got his name Wrench for good reason, he doesn't mess around when it comes to taking things apart. He's the type of guy that doesn't have a problem destroying a truck while attempting to fix it. He uses the same size tools for rc that he uses on his full size truck. If he couldn't get a wheel off the Apache it means he didn't have his cutting torch with him at the time. I could go on and on about him and his Wrenching abilities… LOL
Speaking of reviews, we've got a lot of reviews headed your way this week. Look for full reviews on the uber new Duratrax multi driver, Viper Copperhead brushless system, Duratrax VW Baja Bug, and the Traxxas mini Grave Digger. Yea, yea I know .. 'Traxxas does not make anything Mini!' (That's the email Brian is about to get from Peter V.) But that's what people call it.
Oh and… Scott Hughes, phone home!
That's it for this week, support your local hobby shops, tracks and bash spots!
YOUR Cub Reporter