THE Cub Report- 04.16.2012, Version- Ode to Hideo Kobayashi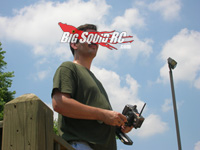 Greetings and salutations fellow rc'ers, and welcome to yet another week in our beloved hobby. Life seems good for many people in our industry- sales are up, people are smiling, product is move'n out the door. For others, the less forward thinking, sales seem a bit stagnant, that pesky rent check keeps getting harder to cut, and life isn't so good. Luckily for us at the BigSquid rc compound life is sweeter than ever, we may be hated, but hits are up, way up, and that's what keeps my paychecks from getting lost in the mail.
There wasn't any "big" product news last week. There are 52 weeks in a year, so it's rather hard for the rc industry to generate a new T-Maxx or Slash every single week. However… there was some "big" industry news- Traxxas is putting out a magazine! I guess somebody hasn't looked at the numbers from the publishing industry lately, or somebody hasn't gotten the memo about how many rc mags have died in the last year, or maybe none of them have actually went out and attempted to successfully buy an rc mag off the newsstand lately, but Traxxas has had plenty of hits the last decade, that allows them the luxury of having a few misses. It makes me wonder though, what's next on their plate, selling horseshoes to car dealers? I kid, I kid. Traxxas has an extremely successful website, which in todays day and age is much more valuable than a magazine could ever be, maybe their new mag is just a way to keep some publisher from going belly up? Maybe it's their form of an uber brochure to give away at TORC events? Who knows…
I have been working on a review for the uber new Axial EXO Terra Buggy. The review won't be done this week as I want to get some more wheel time in with it, so hopefully it'll get posted two weeks from now. I was hoping to compare the EXO to a couple of its scale buggy brothers, the Losi XXX-SCB and the HPI Apache C-1, but seeing as how both of our test Apache C-1's are broke, I guess I won't be comparing it to an HPI. LOL. Anyways, the build with the EXO went ok and the buggy is still in one piece, so far so good with the new Axial.
We have also been working on a review for one of Hobby Kings upper end packs, their Turnigy Nano 2S 60C 6000 Lipo. We've received a lot of email wanting to see how one of the higher "C" Turnigy packs stack up, well you'll get to find out later this week. We'll be posting discharge graphs at 1C, 30 amps and 60 amps, and we'll be posting graphs of how it stacked up against a lesser "C" rated Turnigy pack, as well as graphs comparing it to our latest shootout winner, the Gens ACE 2S 5800. Would the Turnigy 60C 6000 have done well in our last shootout? Does the 60C Turnigy put out more voltage than one of its lower "C" rated siblings? Find out later this week.
ECX is the little brand that could. Nobody expected Horizons low end line-up of trucks to become a hit on the sales floor, but that is precisely what has happened. All it takes is a visit to any LHS or a local bash spot to see there are getting to be a lot of those trucks into consumer hands, and we use them on a daily basis here at BigSquid. No, ECX isn't some high end uber race equipment, and they certainly had some teething issues when they first came out, but overall they have far outperformed what industry annalists expected, even those within the walls of Horizon. As you read here on BigSquid this week Horizon/ECX just picked up Scott Hughes to help take them to yet another level. The brand is already doing well, if they can iron out the last few details and throw a pinch of pro-moto into the mix the ECX line-up will be putting an even greater hurting on the competition than they are now. Joking around with a Horizon guy nearly a year ago I mentioned how the ECX line-up had the ability to surpass the Losi line-up in sales. At the time I think the Horizon employee thought I was joking, but I certainly was not, the buying power of bashers has been vastly underestimated.
That's it for this week ya bunch of Juggalo's, till next week stop in and visit the friendly guys at your LHS, hit a few ramps with the guys at the local bash spot, and poke your head in at the local track to see who's curse'n the loudest from the drivers stand.
YOUR Cub Reporter