THE Cub Report, 04.20.2014, Version- Der Kommissar of RC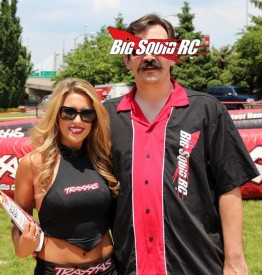 This is "one of those weeks" where I haven't been biting at the bit to rant about something all week long, so I'll start off with some generic BSRC news and just go from there.
Biggest rumor from last week? Another company is about 3 weeks away from announcing their upcoming gas powered machine. The HPI Octane is now looking like a mid-late May release, which is also the last we heard about a release date for the Losi XXL, this third entry into the small scale gas market is rumored to be hitting shelves in July. With a third west coast based company in the mix the summer of '14 might very well be known for the explosion, or the failure, of gas powered rc vehicles.
So… last week I ranted about my unwavering hatred for FB. To change things up a bit we posted last Friday about the new BigSquidRC Facebook Group. So far so good with the group. It has gotten a solid response with actual real people that drive real rc cars, so we are stoked to have a place where we can go hang with people as hardcore about bashing as we are. FB groups are blowing up now days, leaving many an old school forums in their wake, even if you hate FB Check Ours Out to see what all the buzz is about.
There was no Supercross over the weekend as it was an off week, and the officials at the F1 Grand Prix in China threw the flag 2 laps early. Hey, at least Vettel isn't crushing it again this year, although having the Mercedes dominating every weekend is going to get old fast too.
I'm sure you saw that Pro-Line announced their Blockbuster body last week. The Blockbuster was designed from the ground up to hold a GoPro or other "action" camera. Now… how many people shoot on-board video with their rc cars? In the grand scheme of things, not very darn many. So… it's obvious the Blockbuster isn't going to put a bunch more Ferraris in anyones garage, however, it is yet another example of how the team over at Pro-Line aren't afraid to take chances, and because they are willing to "go for it", they keep on the top of the aftermarket tire and body heap. Getting to the top is hard, staying at the top is a million times harder, but year after year the peeps over at Pro-Line keep kicking ass. That is something myself and a lot of industry people have to admire (and envy!).
The review we have coming up this week is for the Spektrum DX4S transmitter. I would say we spent more time on this review than any other in the history of BigSquidRC. We've been using it daily for about a month now and needless to say we've learned an awful lot. It's Spektrum's transmitter intended for users that want to add AVC to their cars, so we spent the majority of our testing seeing exactly what AVC can, and can not do. Check it out later in the week on our front page.
Also in the way of reviews, our Chi-Town crew is finishing up another Carisma review, this time on the M10DT VW Beetle. The M10DT is a 2wd off-roader targeted right at the bash market, with a unique look for all you guys burnt out on short course trucks. Look for the full review next week.
For you new readers out there I would like to mention our weekly schedule. Mondays are always THE Cub Report, Tuesdays used to be review day, but lately we sort of post the reviews whenever they get finished during the week. Wednesday is Rage'n Rotors for the mult-rotor crowd, Thursdays have ASK Cubby, Friday is scale column day, and our boat column Prop Wash goes up whenever Iron Mike gets around to posting it. We could still use good writers, especially those with a specific interest like drag racing, monster trucks, nitro only, 5th scale, etc, so hit us up if interested.
BigSquidRC goes on the road the second week of May for our SoCal Road Trip. Whether you be in the industry, or are just a gnar-core basher, shoot us an email if you want to meet up while we are in the greater Los Angeles metro area.
Thanks for reading BigSquidRC, we hope you have a great week, and support your local hobby shops and bash spots when ya can.
YOUR Cub Reporter