THE Cub Report, 04.28.2014, Version- Who Made Who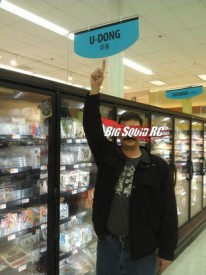 Have you been to a bash this year? Ever? Well I just got back home from a bash and the scene looks alive and well, much better off than some other hobbies I am into. Have you seen the state of car audio or even off-road motorcycling lately? Compared to those, rc bashing is seriously kicking ass.
If you haven't been able to make it out and see what's kick'n in the basher world, here are a few things I've noticed…
The basher tire of choice looks to be Pro-Line Badlands, with a sizable amount of Trenchers in the mix. The tread design on the Badlands look a lot like motocross tires so they look trick, and they get decent traction on just about every surface imaginable, so no wonder half the trucks/buggies I see bashing are shod with them.
The bash vehicle of choice are still big monster trucks like the MT4, Revo and Savage. Big MTs can get around just fine in moderate grass, they can handle loads of power, and they can typically take a fair amount of abuse being breaking, so it's a no brainer they rule the roost. I also see a lot of 5th scales, while more expensive to buy and maintain, they make a lot of noise and can just run over the smaller scales, thus making them attractive to a big percentage of bashers.
As far as brands go… while Traxxas seems like they have long forgotten their core users, they are still the dominant brand with bashers, and overall in the hobby. Their hit sellers like the T-Maxx and Slash, combined with their mass marketing and best parts availability on the planet, still has Traxxas sitting on top of the rc pile. For other brands I see all sorts, HPI has a solid presence with their 5th scalers, and ECX vehicles are seen quite often (no doubt because of their low price point and bash-a-bility).
While this might very well change drastically in the next 12 months, I typically see a 90/10 split of electric to nitro/gas. Electric is extremely dominant right now and rightly so, BL and LiPo are incredibly hard to beat for raw tire splitting power. Will bashes this time next year be dominated by gas powered HPI and Losi vehicles? Only time will tell, but the gas vehicles will have to be absolutely spot on to force electric behind them.
How much money are bashers spending? While some "racer types" think bashers are broke and only drive bone stock Traxxas or ECX vehicles, that is not what I see out in the field. Most people at organized bash events have at least 3 vehicles, all of which have a fair smattering of mods on them. And… for every guy with a pair of bone stock ECX trucks, I see a guy with a half dozen 5th scales with thousands of bling parts on them. From what I've seen first hand, a typical basher has a half dozen vehicles, none bone stock, all with upgraded wheels/tires, power system, and bling parts. Yes indeed, it looks to me like bashers have no problem cutting the check for trick goodies, unfortunately many of their favorite bash machines have no aftermarket parts support.
Want to know what else I realized after attending a half dozen bashes in the last 6 months? I vary rarely heard any cursing , I didn't see anyone chucking a transmitter out of anger, and perhaps more importantly, I saw lots of kids and women at bashes, something that is very rare at a local track. I realized that while some people just love to make fun of "bashers" as being a bunch of hacks, they are a whole lot of good people who aren't afraid to have honest fun with rc cars……
Support your local hobby shops and bash spots when ya can…
YOUR Cub Reporter