THE Cub Report, 05.01.2012, Version- Corry Weller > Danica Patrick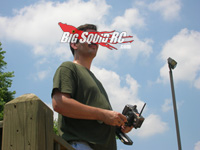 Remember a few years ago when CES (Consumer Electronics Show) was thought to be on its last leg? Remember over a decade ago when iHobby was thought to surely be gone in a "couple more years"? Actually, all trade shows of every sort were thought to be on the edge of extinction, and why shouldn't they? The web has taken over information transmission between the industry and consumers, and most of the communication within the industries themselves. When company XYZ releases a new truck they don't wait a few months and premier it at a trade show, they post it on the web as quickly as possible. When XYZ needs to source a new fuel gun they don't wait and meet with a potential manufacture in person at a trade show, they hit the web looking for a company that can make exactly what they want. When consumers shop for a new rc car they scour the web to see what's hot. There just isn't much reason for any type of trade show to flourish these days.
Yet… CES has blown up to epic proportions, iHobby had record industry and consumer support just a couple years ago, and most recently RCX had arguably its best supported show to date over the weekend. Despite the fact that all trades should be dead, they continue to flourish.
Consumers still love trade shows- love'em enough to load up the Wagon Queen Family Truckster with kids, pay for the show tickets, and spend a precious weekend day off on them. It makes for a great day out with the family, all the while allowing the interested party to mingle with industry types and view/touch/hold the latest and greatest in person.
CES's huge surge in popularity has shown that given enough media exposure that trade shows are well worth the expense to manufactures. CES was not only covered by thousands of websites this year, but it also had live tv coverage. There certainly is a price associated with the exposure of your company to each individual consumer, and CES has risen up to become an excellent bang for the buck. While booth prices at CES aren't cheap your product gets exposed to millions of hungry consumers, in the end making it a good value.
RCX was held in Long Beach over the weekend and consumers came out in force, which, while I am certainly no fan of Air Age, any show that helps boost our hobby is a great show in my eyes. RCX is a show that hasn't been that well supported in previous years, but consumers and industry types alike had nothing but praise for the 2012 SoCal edition. A lottttttt of props have to be given out to all the people that attended the show, at the end of the day what matters most is how many people walk through that gate, and SoCal rc'ers once again showed their rabid support for the hobby. And… I think once again props have to be given out to Traxxas, Thunder Tiger/Associated, and Horizon/Losi for their mainstream advertising of our hobby. Many (some would say most) of the people walking the RCX show were there, at least in part, do to the recent explosion of mainstream advertising by Traxxas etc. It goes to show all those big advertising budgets do pay off, and do trickle down to everyone else in the hobby.
For the manufactures that got booths at RCX they certainly got their moneys worth with walk in traffic. Being exposed to thousands of SoCal rc'ers in person is awesome and helped make it worth exhibitors time and money. But, with the exception of us here at BigSquid (where Brian and Jeff and Greg totally kicked ass as usual), media coverage was abysmal at best. For the exhibitors to really get their moneys worth from these shows they need much better media coverage. You can go up to any rc company and they can give you an exact dollar figure on what a show costs them to do. If doing a show costs company XYZ 5 grand, they'd like to at least get 5 grand worth of exposure out of it (hopefully a lot more). Certainly BigSquid reaches a lot of people out in cyber space, but there are a lot of other "big names" in the rc media that continually drop the ball when it comes to rc show coverage. Some will cover the heck out of Billy Bob's Bi-Weekly Trophy race in Sh#tkicker Idaho, yet they don't even bother to cover one of the biggest rc shows of the year.
That's it for this week amigo's, support your local hobby shops, tracks and bash spots!
YOUR Cub Reporter