THE Cub Report, 05.05.2014, Version- Turning Races into War and Peace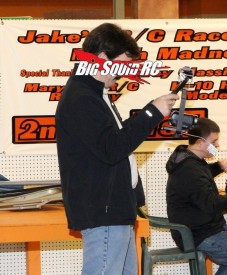 I just love it when a Cub Report writes itself, and I love it even more when someone actually agrees with one of my hard edged opinions. Last week Joseph Quagraine had this to say about the 11 day long IFMAR 8th scale buggy championships coming up later this year in Italy-
"Hello,

I am writing this as JQ the RC Driver, JQ the Pro RC Driver, and JQ the RC company owner. The more I think about this, whatever position I think of myself to be in, the end result is the same. Something is wrong right now, and we have to fix it. We, as in the people actually racing at these events can do so, if we just voice our opinions together!

So what is the problem, it is pretty simple. I wanted to book my flights for the 1:8th Offroad Worlds, but I realised that I do not actually know which days the event is going to be! I have heard that the worlds will be extended, running for 11 days instead of 7, I have also heard it is just a proposal, I have heard that it will be just one week because "everyone complained". But the point is, I have not heard anything official, and I would really like to book my flights and hotel!

*THE Problem*

It had been decided that there would not be any Worlds Warm up, or extended practice sessions at the Worlds venue in an effort to save costs. This sounded great, until Ifmar announced that the race would be extended by 4 days, for more practice. How this is supposed to save costs I do not know. 4 days more hotel, rental car, tyres, fuel, and most importantly, 2 weeks off work, instead of one. This is a HUGE mistake in my opinion. The reasons are:

– Additional practice, for what? No one I have spoken with wants more practice. We already have enough (too much).

– It is hard enough for many people to get 1 week off work, now they have to get 2 weeks off? In addition the added cost, it is not good for the average racer. I have heard drivers say they won't go because they would have to miss the practice, and feel like they will be at a disadvantage. Is this the idea of a WC?

– Added costs for the manufacturers will be substantial, fuel, tyres, parts, and all on a track that wears out tyres in 1 run? How will a person paying for his own stuff afford to go?

*Why would 4 extra days be GOOD?*

I tried really hard to think of reasons, these are the only two reasons I could come up with:

– Someone wanted a longer all expenses paid holiday.

– Someone has struck a deal with local hotels. Count for yourself how much money 4 extra days brings the hotels…..(Disclamer: This is based totally on speculation, as I said, I tried really hard to think of reasons :-))

So, people, if you agree with me that you don't want to spend the extra money, you don't want to take the extra time off (or on), and you don't want to spend 11 days at ONE EVENT, please let's stop this from happening!

I love the Worlds, it is the best race, but after Argentina, now this? We can do better….

And let's leave these other problems for another time shall we?

– "No worlds drivers will be driving on the track before the worlds" Oh really? So no Italians are going? I seem to recall that the Italian nationals were recently held on the same track.

– The track layout/surface needs to be renewed by at least 60% – The organiser themselves told me nothing would be changed.

– The surface needs to be at least 50% natural soil. – It is apparently 100% concrete and carpet.

#facepalm

*THE Future*

Let's try to remember why we race RC Cars, it is supposed to be fun! Let's make these events affordable and enjoyable for everyone. Let's visit locations with a large local RC scene, easy access for everyone, and great facilities. Let's promote the event locally, and involve local media. Let's shorten up the program, and cut costs. Why don't we do this so that the RC scene can grow! Racing at remote locations, for almost two weeks, is not a step forward. The manufacturers, or the sport in general gains nothing."
Hit the "Read More" button to read the event organizer's response and what I have to say about all of this…
So there you have it from the owner of JQ Products himself, as an industry insider, and as a racer, he finds the event to be wayyyyy too long and loaded with "issues".
You would think the event organizer would stand by their allotted calender, soak up the grumbling from the haters, and move on with life. Instead, they thought it would be a good idea to send out a reply to JQ's rant, here it is…
"Our organisation, Messina Worlds, has already organized in Messina, year 1992 the Onroad Team World Championship. Then, in the same location (year 1991), the 1/8 Onroad EFRA European "B" Championship. Last, but not least, we have also successfully taken care of the 1/8 Onroad IFMAR WC Championship in 2005. Not to mention the several Italian Championship races organized since the Eighties. Furthermore, we pay lots of attention to local R/C events, in order to promote our sport among young people.

We are very sorry about what Mr. Joseph Quagraine comments, specially because we believe that some of his statements don't match reality at all. Here follow our considerations concerning several issues.

ACCOMODATION We have certainly proposed officially about 4/5 hotels. Would you please note that in the Giardini-Naxos/Taormina area, being one of the most famous tourist resort in the Mediterranean, there are hundreds of hotels, B&B's and so on. Therefore all drivers/technical staff are free to book accomodation wherever they like. By the way, if our plan (as clearly mentioned by JQ) was to make profit, we would have proposed to organize Warm-Up sessions as well.

DURATION OF THE EVENT As shown in the EFRA and IFMAR websites the duration will be from the 18th to 27th September 2014, which means 2 extra days compared to the previous plan. In any case,2 extra days will avoid private practices, Team practices and Warm-Up. Also they will be useful in case of problem caused by unexpected weather conditions.

DRIVERS In reference to what JQ mentions about drivers we'd like to make reference to the past World Championships. We are sure that you are aware that in the past editions, some drivers attended Warm-ups, while some others didn't and even some of them spent several weeks at the track But, at the end, all of them raced eventually at the WC. This means that the 2 extra days are not necessary nor compulsory.

TRACK Regarding such issue we underline the fact that JQ has never contacted us and we never declared that track modifications would have been out of question. So, we confirm that we will proceed with such modifications, according to the official rules. We also believe that organizing a Warm-up and then change 60% of the track, it is not useful to drivers nor to the manufacturers.

Finally, this Offroad WC Championship, will be an opportunity for the drivers to race equally, on a fair play ground without disadvantages for any of the them, being the track "new" for all of them."
If you've read THE Cub Report (capitalized "THE" in no way connected with JQ btw), then you know I've complained/bitched/ranted about rc events being too long in duration for years. It is simply ridiculous that every top-of-the-line full size racing event can take place in less time than the big name rc racing events. Like I've mentioned before, I can think of a whole lot of things I absolutely love to do, but I would never want to do ANY OF THEM for 11 days straight.
Btw… what is expected to be learned over the course of all those extra days that can't be learned in just 3? Hell, even 3 days is too long to me, if I was head cheese at IFMAR it would be a two day event. Day 1- qualifying via fastest 3 practice laps, and day 2- the mains. Anyways, why do I mention 3 days? Because that is how long most big full scale events are. Just a quick example here- MXDN is a once a year event that pits the fastest motocross racers from across the world, but you don't see them stretching that sucker out, they fly in, bust it out, and fly home. The MXDN title is just as prestigious as it has ever been, with minimal wear and tear on the racers, and minimal expense to the sponsors. Oh and, at the end of the event it is pretty easy to see the "best" team won, not the team that got luckiest (which seems to be the case for winning the 8th buggy worlds in recent times).
Btw, like JQ eluded to, I feel there is only one reason why rc events are so long- money. More money spent at the track, more money spent at local hotels, more money spent on tires, etc. IMO, it's all about milking every last cent out of a racers pocket, whether it be your "big" local trophy race, or an IFMAR worlds, they have all been too long for years now. And… these events will keep getting longer until they finally milk the racers bone dry and there is no more money to take, or when the racers finally get a clue to what is really going on and demand shorter events (like JQ did).
But even if the racers demand shorter events it doesn't fix the fundamental problem with the "world championships" in rc, the fact their are too many different world championship classes/events held once every two years. Just because it is "tradition" doesn't mean it is a good one, or even one that accurately determines a winner. If the world championships don't even remotely determine the fastest racer for that two year time span, why even bother with them at all?
That's it for this week, support your local hobby shops and bash spots the best ya can.
YOUR Cub Reporter