THE Cub Report, 05.06.2013, Version- Swedish House Cubby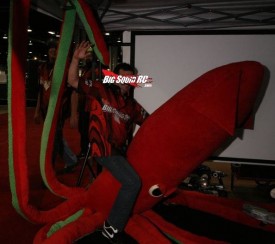 Hello everyone, welcome to another week in the rc hobby, and welcome again to THE Cub Report.
The 2013 Supercross Series is officially over but it went out with one heck of a bang. While the big boy pants class was all wrapped up last week, both of the 250 region titles came down to real nail-biters. On the East Coast Wild Willy Hahn won his first supercross title, but just barely. KTM rider Marvin "The Martian" Musquin came up about 10 feet short of making a last lap pass to rob Hahn of the title. For the West coat, Eli Tomac was the reigning champ and a huge favorite, but after a couple of mid-season crashes he ended up way behind on points. K-Roc capitalized and gave KTM their very first Supercross title. I can't imagine how stoked the Big Orange team and Roger DeCoster are right now.
BTW, thank goodness the Lucas Oil outdoor motocross nationals start in just two weeks. 🙂 If I had to guess, I'd say there is going to be a whole lot of orange up front there too.
I am soooo not the serious type, but… cancer Freak'n sucks….
A couple really kick a$$ rc guys are battling with cancer right now- Car Action's Steven Bess, and a good friend of mine Richard S. (internet handle Go1die) from Missouri. You guys probably haven't heard about Go1die, but he's an old racing friend of mine who always made everyone around him smile, he's a great hearted guy that always stood up for the right things, and is one of the few people walking this planet that I would actually trust my kids with. Go1die also helped me out tremendously a few years ago when THE Cub Report first went up on the web.
Go1die and Steven are both really cool guys, and both are going through the bone marrow transplant process right now, just like a lot of other great people are. I know everyone has their own problems, and everyone is busy keeping their own lives on track, but if you've been slammed with life and haven't done anything charitable in a while please consider being checked out to be a bone marrow donor. It's painless and fast to see if you might be a suitable donor. HERE is a Link with some info if you are interested, it might be the most important link you ever click on the internet. Seriously consider it, you, yes YOU, can save someones life.
And on to a legit rc rant that I am particularly fired up about. After the previous subject I hate to get all negative, but I am straight up pissed off about this…
Freak'n cherry pickers, enough is enough.
Recently a PR went out on how an IFMAR world champ and his uber-scoot factory teammate cleaned up the stock class at a recent race. W T F. That is wrong on every single level. The "stock" class never was, and never will be, intended for the elite/world class level of racers of the sport. The "stock" class was made for, and is still intended to be, for newer, lesser skilled racers. Shame on the factory drivers, sponsors, and the track involved.
Why should the factory drivers be ashamed? Because it's cherry picking, no different than if Bubba were to drop down and pwn the "C" class on a motocross track. There is no honor in cherry picking. None. In fact it's a responsibility of being a factory paid driver to set a good example, to show newer drivers what is, and what is not, good sportsmanship.
The sponsors of the factory shoes should be ashamed too, especially by advertising the fact their uber drivers dropped down to pwn the stock class. What's next, are factory drivers gonna show up to my local track and race novice just to pick up some easy trophies? Are the teams so hard up for trophies they actually think cherry picking is acceptable? No, it's sickening, pathetic, and looks terrible.
Oh and, lets not forget about the track that allowed the big names to compete. If I was the race director and had some multi-time IFMAR world champ (or any big name factory guy) show up and attempt to sign up for a "stock", "super stock", or "expert stock" class I'd say "Glad to see ya, thanks for coming, but have fun WATCHING the race today because you aren't going to be in it.", simple as that. Sometimes it takes the tiniest amount of balls to do what's right.
Regardless of what you might think, racing is done for one reason, to sell product. Do certain manufactures actually think consumers are so freak'n stupid that they are ok with cherry picking? I talk to a whole lot of Joe Blow consumers on a daily basis, and I can assure you that even casual rc'ers freak'n hate cherry picking. If a company is really wanting to sell product, it's about winning only the most prestigious of events against the best of the best competition. A whole lot of good marketing can be flushed down the toilet real quick by advertising/condoning cherry picking in action.
A whole lot of people have been turning their heads and looking the other way allowing blatant cherry picking to go on. It is about time some of the "big name" people in this hobby sit down and think REAL HARD about what is truly important in rc racing and to re-evaluate their priorities. Racing toy cars is enough of a joke without certain people doing more things to make a mockery of it.
That's it for this week ya'll, support your local hobby shops and bash spots when ya can. Oh and, if you see someone cherry picking, why not speak up and tell them what you think about it…
YOUR Cub Reporter