THE Cub Report, 05.08.2011- Warp Core Breach Edition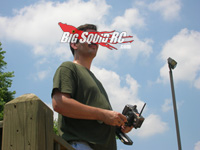 Just how fantastic was the full scale racing over the weekend? Pretty damn epic. Thankfully F1 was back in action, and the best drivers on the planet got pwn'ed yet again by Red Bull Racings Seb Vettel in Turkey. I'm not a big Vettel fan, so would someone else Please pick up the pace and run with the guy? Vettel has won 3 out of the first 4 grand prix of the year, which is great for him, but sucks for all the Mercedes, McLaren, Lotus, Renault and Ferrari fans out there.
In other full scale racing- I was one of the lucky people to witness the final round of 2011 AMA Supercross in person Saturday night. Geico/Honda/Associated rider Justin Barcia cinched up the East Coast Lites title, while Monster Energy/Pro-Circuit/Kawi/Traxxas rider Broc Tickle won the West Coast Lites division. In the big boy class Speedy Reedy won the race, but Villopoto won the war securing his first AMA Supercross class championship (and yet again Bubba Stewart crashed his brains out). Overall an incredible end to arguably the best Supercross season in history, and even more incredible is how hobby grade rc is everywhere in that sport.
I was in Vegas all week, initially for the NRHSA (National Retail Hobby Stores Association) show, then for the Supercross. The Vegas hobby show gets very little coverage, so little that I'd doubt many consumers have even heard of it. The main "trade" shows in our hobby are- iHobby in Illinois, Rc Car Action Magazines RCX show in California, the HobbyTown convention in Nebraska, the Weak Signals show in Ohio, and the NRHSA show in Vegas.
The Vegas show is much different than all the others, it feels much smaller and it's only open to people in the trade. The Vegas show is a "tabletop" show, meaning you won't find huge/expensive booths, all the manufactures set up displays on rather plain 4'x8′ tables. In the early years of the NRHSA show manufactures could bag some big PO's, now days it's a lot more about getting face time with retailers and making deals within the industry. Oh, and a lot of partying, I mean it is Vegas right? Amazing how some of the biggest deals ever made in our industry have been made over 12 oz filet mignons and a few cold beers.
Anyways… the Vegas show switched venues this year from the Hilton over to the Orleans, which was fine with me, as I think the Vegas Hilton sucks since they got rid of The Star Trek Experience and closed down Quarks Bar (oh what I wouldn't do for another Warp Core Breach!). If you are there with a manufacture and have a booth to run, you spend all day talking to retailers and trying to get face time with the other manufactures you hope of hooking up with or getting info from. After the show closes for the day you go out attempting to not party too hard because you do have act like a fully functional human being the next day. If you are a retailer it gives you a dern good excuse to get the hell out of Dodge and make a trip to Vegas. I don't think I even have to say that many retailers that fly in to Vegas never make it to the show, or if they do it's for a very short time. You can't blame them, the Vegas strip is a whole lot more interesting than anything in the expo hall. 🙂
Btw… anybody else notice that Vegas has gotten Really expensive the last few years? Ughhh… what happened to the cheap flights/rooms/buffets?
Now on to some real rc news…
Is it just me or is Traxxas just a lil' bit too affectionate of their 16th scale platform? I only say this because last week Traxxas showed the world their uber new Kyle Busch Camping World Race Replica, and while the truck looks awesome, it's firmly planted on their 16th scale platform. Not that the Traxxas mini platform is a bad one, it's not, but if you are a basher bigger is always better. For instance- imagine you are driving that uber new Traxxas Kyle Busch truck at your local bash spot. Now imagine me and Wrench are out there driving around brushless E-Revos with you. Somebody's car is gonna get x-ploded, and it sure isn't gonna be mine or Wrenchs. The K. Busch truck looks great for indoor ozite racing, but it's gonna be nothing but a speed-bump at any true bash spot. Is Traxxas turning to producing small scaled racers, or have their forgotten what true bashers want? I have no idea, but I'm hoping they start putting some of their uber designs on a new 10th scale platform.
Remember how much I like to b!&ch and moan about ugly bodies? Ohhhh boy, we've got a new king of the hill- FTW Racing has a new body out called the "Night Fox XL" and that sucker could make Stevie Wonder turn his head away. I mean Holy Moly that is a body only the manufacture could love. I wanna buy one of those just to mow it to bits with an AK47. I mean serious WOW, like HOF sort of ugly.
That's all I've got for this weeks rc version of the Jerry Springer show, so get off your computer and hit up your LHS, local tracks and bash spots!
YOUR Cub Reporter