THE Cub Report, 05.14.2012, Version- Where Art Thou Space Jockey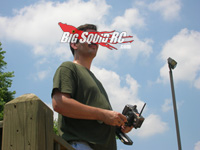 Boiling down the last week in rc into one quite petite (and quite sarcastic) lil' lovable report. Now on to the news…
No doubt the Axial EXO Terra buggy has already made a heck of splash. While our test unit may have had a few new model gremlins, it's still a kick a$$ buggy and one that might very well change the rc landspace for years to come. Last week Steve and the uber crew at ST Racing Concepts announced a full line-up of way-super-dope hop up parts for the EXO. As always from STRC you can expect exception fit and finish, plus a nice choice of colors to suit your style. I highly recommend you buy these, so if you don't already own a Terra buggy to mount them on you might wanna hit up your LHS.
One of the rumors floating around last week was that the Firelands Group (read- Helion) is getting close to the release on a new Monster Truck. That is good news to the bash crowd, I mean, the more choices the better when it comes to bash machines. The 4wd SCT Helion Dominus won our March Bashness contest, if Helion's Monster Truck is any good, look for it to be a big hit amongst the bash community.
Atomik/Venom Group announced a very trick new Metal Mulisha edition rc dirtbike. If you aren't a part of the mx/sx/fmx scene, Metal Mulisha kicks the 909/flat-bill/bro/freestyle attitude (which Brian just can't get enough of lately). Regardless, it's pretty awesome to see Atomik selling a licensed rc dirtbike. Yes, it takes a while to adapt to driving (riding?) an rc dirtbike but they are a blast to huck off of ramps, chase the dog with etc.
The Traxxas product catalog continues to grow with the announcement last week of their Rob McCachren edition 2wd Slash and I gotta say it's the best looking Slash yet. It comes with their new TQi radio (which I am not a fan of), a 7 cell Ni-mh for power, and licensed BFG's. Kudos Traxxas for putting out yet another really cool looking scale vehicle.
I was talking to one of the marketing guys for a left coast rc manufacture last week and he mentioned that since the last two rc mags have died off and they applied those ad dollars to the web (and no, they aren't an advertiser here, not yet at least.. LOL) and their sales have picked up. They have recently dropped their ad out of one of the two remaining mags and have put those bucks into web ads, needless to say his company is eagerly awaiting the results. I am pretty certain I already know what they are going to find out- that web bucks are bucks well spent. A company can buy a whole lot of web ads for the price of one page in one of the mags that nobody reads anymore. Just state'n the obvious here…
We are holding a huge kick azz Big Squid RC Bash on June 9th at the Orland Park, IL. Hobbytown USA. Consider yourself cordially invited to a fun day of bashing, jumping, crashing and rc bench racing. There is access to AC power at the venue, but indoor pitting is quite limited so come prepared by bringing a pit table and a chair to relax on. Brian has some cool bash events already lined up, I hear his "RC Sumo" event is get'n some buzz, and there will be numerous other events to have fun and test your rc skillz. I would also like to invite all the Champaign and Chicago industry types up for a day of bashing and mingling with end users, at the very least you can use it as an excuse not to work that Saturday and I bet you can twist Brians arm into buying you dinner afterwards. 🙂
Also in event news… Erich Reichert busted out his official PR on his 5th annual Vintage Nationals event. If you are a big fan of racing old school rc's this should be the one event you must hit this year. Bust out your old gold tub RC10, Avante, JRX2, YZ10, old Kyosho Ultima's, etc and hit Bethel Connecticut on Sept 14th to 16th for a good time. This event isn't like a typical rc race, it's not about screaming at the marshals are throwing your 4PKS at your pit table, it's about enjoying the history of our hobby and having some laughs. Fyi, never ride in a full size car with Erich, he drives like a blind Kamui Kobayashi, or if you do be sure and bring a change of underwear. Just say'n.
That's it for this week gang, support your LHS's, tracks and local bash spots!
YOUR Cub Reporter