THE Cub Report, 05.19.2014, Version- Nothing Ever Changes… Sometimes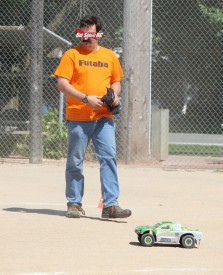 While out in SoCal a couple of weeks ago, Brian and Tim were busy gallivanting around the rc scene, while I was hang'n with people in the motocross industry. On one particular night, I was able to sit around a ridiculously large table, one covered with all sorts of edible delights, with a number of makers and shakers in the moto industry. At one point the conversation turned to amateur motocross racing, specifically, the decline of racing at the local level. One of the men at the table turned to me and said, "There are just too many amateur nationals. Everyone is focused on Loretta Lynn qualifiers and nobody races locally anymore." Indeed, arguably the biggest problem in motocross today is the sparse turnouts at local races.
Amateurs hitting a bunch of big events, whether it be motocross or rc racing, sure do spend a lot of money. They need bikes/cars/trucks, tires and more tires, and all the nic nacs it takes to get though a big race. Turnouts at big amateur motocross events are as big as ever, and entries at big rc events are too. You would think that would be a great thing for both industries, racers spending lots of money.
However, there is a downside. A bunch of people racing a select number of big events doesn't sell nearly as many cars/parts/etc as a whole lot more people racing locally every weekend. And perhaps even worse, a bunch of very hardcore/talented traveling racers tend to run off noobies when they do decide to hit a local weekly race. Low turnouts plus the running off of noobs equals what motocross and rc has now, lackluster local racing in most areas of our country.
And… maybe you haven't noticed, but the two biggest trends I see at both local motocross and rc tracks are- 1. receding hairlines, and 2. grey hair. While people with grey/receding hair tend to have more disposable income for racing, that isn't a very good trend for the long term health of our industry/hobby. When the age average of participants at local tracks does nothing but keeping getting older each year, that does not bode well. Believe it or not, some people care that our hobby stays healthy enough in the long term that our kids/grand kids can enjoy it too. Unfortunately, there are too many people concerned about making the quick buck via too many big races, instead of a long term fortune via strong local racing. Does our industry have what it takes to make the changes necessary for local racing to regain its former glory? Or will they do nothing and watch it further die off, along with all those lucrative dollars that go with it?????
That's it for this week's Cub Report. If you get a chance, drop by your LHS and see what's kick'n, and drop by your local bash spot too if you get some time.
YOUR Rub-A-Dub-Dub Cub Reporter