THE Cub Report,, 06.10.2013, Version- Powered By Race Fuel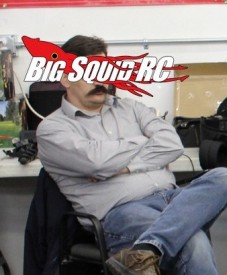 Hello everyone, I trust you are having a great Monday and welcome to another fantastic edition of THE Cub Report.
I know this will be quite shocking, but I have yet to watch any race coverage from over the weekend. I haven't seen the AMA National from High Point, nor the Canadian F1 race, and haven't even seen the NBC Sports coverage of the Speed Energy Stadium Super Trucks from St Louis. It's highly unlike me not to watch a good ten hours of race coverage over the weekend, I better cue up the DVR and get caught up (read- Brian, I'm going to be really late to work this morning)
Speaking of the SST race, I am looking forward to the TV coverage even after seeing it in person with the BSRC Bash Crew Saturday night. I've seen a lot of truck racing in person the last few years, but the SST event in St Louis was freak'n great racing. All the guys were going big on a gnarly track, hopefully it comes across that way during the televised broadcast. One last note, I would like to give a huge thanks to the guys at Traxxas and SST for giving us the royal treatment in St Louis at the race. The event came off great and the guys running the show are top shelf, I truly hope the series goes huge in the coming years.
On a different topic…
We have big news here at BigSquidRC this morning- Comments Are Open, not just for this post, but for every post from here on out. Now you can voice your opinion on each and every post here on BigSquidRC. I know we are looking forward to it, and certain "industry types" are quite interested in what our readers have to say, so feel free to chime in and tell the world what you are thinking. With our comment section turned on finally the best part of BigSquidRC (our readers) have a voice that will be followed by some of the biggest makers and shakers in the rc biz.
On yet a different topic…
So… a few weeks ago I had this idea of doing an unboxing video where one of our Bash Crew guys would throw a brand new car (in its box) off the roof of a house to "unbox" it. It was really no big deal to us, we live the basher lifestyle so I didn't think the idea was that far out there. I shot the vid, Tim did the hucking, and Brian did some editing and posted it.
About 15 minutes after the video went live I got a text from an industry buddy of mine, he straight up flipped out after he saw it.
"Are you guys out of your minds? What would make you do such a thing? You better kiss Vaterra good-bye as an advertiser!"
Needless to say my "industry buddy" is not a "basher", he's a long time racer and marketing guy, so I knew he would never be able to truly understand the why's behind it, so my return text was simply "Ya, the unboxing vid was awesome wasn't it!".
I really don't need to explain why we did it to you basher guys, You already know why. You know that the number ONE reason a basher buys anything is because it's tough. It has to be, because bashers don't treat their equipment like racers do. Racers are all about cleaning and tweaking, bashers are all about being able to survive the weekend without breaking the bank or having to spend every free minute they having during the week spinning wrenches.
The whole premise for our "off the roof unboxing video" was to show a product getting the true basher treatment from minute number one. If a new vehicle could survive that without a scratch, just like our review Vaterra Glamis did, it instantly gives the vehicle a lot of "street cred" to the bashing crowd. Based on the feedback we've received from the bashers, it did just that. Vaterra is still a "new" brand on the street, it's awfully hard to separate a basher from his cash unless a vehicle has earned that right, and the Glamis was a bash worthy machine from its first huck off the roof.
Btw, we weren't too worried about the people at Vaterra seeing the video and giving us the call of death. Ya sure, if the box hit the ground and the car exploded like it was made from Mikasa crystal, it would have been a problem, but from having tested some of their previous products we already knew that Vaterra had obviously spent some serious time making sure their cars could take a hard hit. When the Glamis came off the roof for the "unboxing" it wasn't even scratched, a nice indicator to potential buyers that it is indeed ready for anything you can throw at it. That's the kind of vehicles bashers will bust open their wallets for, and the types of vehicles that we love to drive on a daily basis.
One last subject…
This Saturday we'll be attending a bash in Urbana Illinois. Come on out to get your bash on and hang with myself, Brian, Tim, and Craig. We'll be covering the event for our front page, as well as destroying our personal vehicles in the name of bashing. Join us if you can, it'll be fun times. Click right here to get more info.
That's it for this week, support your local hobby shops and bash spots when you can.
YOUR Cub Reporter