THE Cub Report, 06.11.2012, Version- The Sweet Sound of Chassis's Slap'n the Pavement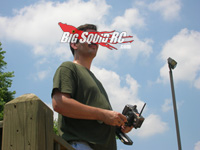 Hola friends, bashers, industry types, and rc hobbyists, you've made it to yet another funtabulous edition of THE Cub Report.
BigSquid's way uber Summer Kick Off Bash went off with sizzle on Saturday. The weather was perfect, there was a great crowd of fun loving bashers, and all the events seemed to provide big smiles across the board. All day long there were drivers out doing general bashing on the ramps, some going big, others going huge, and some going downright stupid. It was amazing to watch some of the guys huck their rides as big as they were going with such little breakage, you could tell those guys had bulletproofed their rigs before the big bash. Brian also held a few bash events including obstacle course, sumo wrestling, shopping cart jump, and the ever popular demolition derby. Huge thanks to all the drivers that came out to support the event, and huge props to Hobbico and Pro-Line for supporting bashers and supplying some really cool door prizes.
The venue of our Summer Kick Off Bash was the parking lot of the Orland Park HobbyTown USA. The shop owner was a great host and his store had one of the best stocked surface rc departments that I've ever seen at a HobbyTown. Some hobbyshops don't have very large rc departments, they fill their stores with crafts/beads/kites/games/etc, but the Orland Park location was filled to the rim with rc gear, props to them.
On a different note…
The new Pro-Line Performance Transmission for the 2wd Traxxas Slash/Stampede/Rustler/Bandit is creating quite a buzz, not just around the office, but all over the web. We first reported the new PL tranny during our RCX coverage this spring, and now it's nearly here with a release date of June 15th. Needless to say, there are a LOT of Traxxas owners who can't wait to get their hands on one. We will be posting our full review of the new Pro-Line transmission on Tuesday morning, keep your eyes peeled.
Also of note from Pro-Line… if you are a true basher you've bent more than your fair shares of shock shafts. The folks over at PL posted a shot of one of their new shock shafts on their Facebook page last week. Other than them being black in color there is no further info is available at this time, but if they are from Pro-Line you can expect them to be the best.
Did you know the BigSquidRC Bash Vehicle of the Year 2011, the Thunder Tiger MT4-G3, has been disco'ed? Yes it has, but not due to lack of popularity as it has been known to sell out in a matter of hours after it hits the dock doors at Hobbico. The MT4-G3 has been temporary discontinued as Thunder Tiger ramps up production on the model that will replace it, a truck that is virtually the same except for a new radio system. Look for the replacement truck to hit shelves in the near future. Btw, there were multiple MT4-G3's at the bash on Saturday and I am still amazed at the beating they can take without breaking, Xerxes in particular was huck'n his like crazy.
ARRMA is a dedicated basher line, no doubt about it. The hot rumor around the office last week was that ARRMA has more goodies coming out for the bash crowd, perhaps a new platform or maybe more power is on the way? Who knows for sure, but kudos to them for catering to our type of people.
We have uber new BigSquid "909" style hats in stock! Wear something cool on your dome while you bash and make a statement while doing so, hit up the BigSquid shop and get one headed your way. (Store will be updated later today)
That's it for this week folks, I didn't even have one decent rant in me this time (guess I'll have to really go off the deep end next week!). Thanks for reading, and support your LHS's, tracks and bash spots!
YOUR Cub Reporter