THE Cub Report, 06.16.2015, Version- Cheating to Pass the Turing Test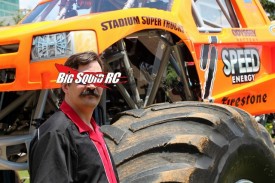 Hello rc world, it's Monday and that means yet another funtabulious edition of THE Cub Report.
A couple of months ago when hitting up my local hobby shop, I was quite alarmed when the owner of the shop told me that 2014 was the worst sales year he has seen in the 30+ years his shop has been open. In fact, he went so far to say that 2014 was "Apocalypticly bad" for sales, and that he couldn't wait for his lease to run out so he could close up shop. Now certainly LHSs are getting hit hard by internet sales, so it is understandable has his sales could be down, but were sales just down at his LHS, or at most hobby shops across the country? What about sales overall? Were the internet places having a bad year too? What about the manufacturers, are sales down for them too?
During my constant travels since then, I've made it a point to ask every rc company I've visited, from LHSs to manufacturers, just how their year was going. Now… I knew some of the people I asked were always going to say "Sales are at all time highs!!!!" regardless of what the real numbers were. For those people I pretty much zoned out during their answers, but I've also gotten the chance to talk to over a dozen people I truly trust, the types of people who aren't going to just yank my chain. And… yes, it sounds like sales are slow across the board. Most of them were not in full blown panic mode like my LHS owner, but virtually all of them had no problem admitting to me that 2014 has been a stinker thus far for sales.
Why do I bring this up? Because many people in our industry, whether they work at an LHS or at the largest of the manufacturers, don't often get the chance to honestly talk numbers with people from other companies. And…. because THE Cub Report is read by loads of industry types, I can help spread some information they might be interested in, such as 2014 looks to be a down year. To boil it down, 2014 looks to be a tough one for our industry, but everything works in cycles, lets hope this dip doesn't last long and gives way to higher sales in the very near future.
If you are a consumer, what does this mean to you? Chances are if you are in the hobby right now you are already spending plenty, however, you can still help spread the word about rc. You can place an rc related sticker on your full size whip, you can do some bashing at the local park to show others how cool it is (in a responsible manner of course, don't run over any kids with your 5th scale), and of course by just keeping on supporting your LHS or wherever you get your gear from.
On an unrelated note…
We posted a screenshot over the weekend from Tower Hobbies's website showing Kyosho product on their "Just Announced" section. It's been several years (a decade???) since the two had a falling out, and if in fact Kyosho is back with Hobbico it should be great for both of them. It gives Hobbico yet another awesome line to sell, and finally gives Kyosho the big distribution they need to excel in the American market. No, I don't have any inside info on this one, but I'll be in Champaign later this week and will try to get the scoop face to face.
That's it for this week, support your local hobby shops and bash spots when ya can!
YOUR Cub Reporter