THE Cub Report, 06.17.2013, Version- Bring the Noise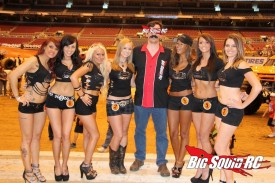 Hello readers, industry types, and people who just happened along via some random Google search, this is THE Cub Report, a weekly rant-n-rave session about the rc world.
Rc racing is so freak'n screwed up, yet the vast majority of racers have no problem just "going with the flow'. Thankfully I'm not wired that way… For example, over the weekend ROAR (LOL) held their 8th scale nitro buggy and truggy off-road nationals (wow that's a lot of qualifying descriptors).
Problem one- Last weekends race was one of the many "national championships" ROAR holds every year. There are so many different ROAR national champions in any given year that the distinction of "national champion" no longer carries any weight with consumers.
Problem two- Even though ROAR says they are trying to save the race teams money, each national event is too long. It takes about a week to practice, qualify, re-qualify, then actually get down to "racing". They could accomplish the same thing over two days, saving loads on hotels, food, tires, nitro, etc. Yes, maybe entries need to be limited- restricted to those who qualify/resume their way in. Too many racers combined with too many rounds of practice/qualifying equals wayyyyyy too much money spent by the teams and Joe Blow racers.
Problem three- "TQ" is freak'n screwed all the hell up. Even though they spend nearly a week determining a "TQ/top qualifier", the TQ driver isn't guaranteed the TQ spot on the A-main grid. Hell, sometimes they don't get to race in the "A" at all. For example, in the premier "8th scale nitro buggy" class, the driver that EARNED the "TQ" spot last weekend ended up not making the A main because of issues in yet another qualifying race. Seriously? This is despicable. If you waste a week figuring out who "TQ" is, the least you can do is make sure that person gets a spot in the "A". And if you are a racer, where is the honor in beating a field that doesn't even contain the top qualifier?
Problem four- Because they qualify for so long, teams have started issuing statements like "We totally dominated round four of qualifying!" after every round, and in every class. Ok, so too many press releases go out on actual real races, now teams water things down even more by putting out statements on each round of qualifying?
Problem five- Luck is a part of racing, always has been, always will be, but "luck" is wayyyy too big of a factor in rc racing. How can I say that? The TQ at the last two 8th scale worlds hasn't made the A, nor did the TQ from last weekend at the ROAR race. That's one example. But to me this is the bigger problem- basing your most prestigious national championship on just one 60 minute race, on one weekend, at one track. This is ludicrous if ROAR/IFMAR/Whoever is honestly trying to figure out who the fastest racer is. There is a reason why 'real' racing bases their championships over an entire series. It's a whole lot easier to luck into a win at a single race than to prove week in and week out that you are indeed the fastest man on the grid. Can you imagine an F1 champion based off just Monaco? How about the AMA 450 national motocross champion based on just one moto from Unadilla? No, me neither.
Problem six- I really hate it when such-and-such a driver/company put out a PR saying how they just TQ'ed/Won 4 classes at a "big" race. I have news for the manufactures, if you want a win to actually matter, it has to be in the ONE PREMIER CLASS. On the racer side of things, where is the honor in winning a class that isn't the premier class? That's right, there is none. If you are an uber/elite racer, stay out of the lesser classes and let someone else get a win for a change. Kind of hard for up-and-coming racers to ever get a win when the big factory paid guys race every single class on the entry sheet.
I could go on and on here, yes seriously I could, but I've gone long enough on the very same things that I've already complained about a dozen times.
To boil it down, I'm not the only one thinking these things, but rc racing will continue to be one big joke until the "right" people grab their stones and demands change. Oh and, because everything is always about the money, rc racing isn't a very good "marketing tool" the way it sits right now. I've talked to many "higher up" industry types that complain about the exact same things that I do, but they just don't want to make waves for fear of backlash.
Well, to you industry types afraid of "backlash"- the smarter people in the industry (and in the public) will admire a person that sticks up for what they believe in and for what is good for our hobby. Lastly, many of our industry's "big names" are no spring chickens anymore, they have to be thinking about the legacy that they'll leave after they are gone. I can think of no better legacy than being the man responsible for taking rc racing out of the dark ages……..
That's it for this week, support your local hobby shops and bash spots, and why not speak up for some change?
YOUR Cub Reporter