THE Cub Report, 06.22.09, Your Week In RC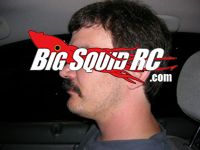 Welcome to yet another incredible, inedible, Cub Report.
Product news of the week? The new Novak 1,300+ Sintered Rotors . Essentially, these new rotors have been put through a special process to give the magnet more strength. They sell for under $40. But ya know, brushless racing shouldn't require a "hop-up" magnet, it's brushless for hecks sake. Some idiots years ago started "stock" classes for brushless, which require racers gear the crap out of uber low kv motors just to get any speed out of them, which then requires rotor upgrades. Sad, very sad. Brushless motors can easily outpower any chassis, it's just one of the beauties of that beast. Brushless racing should be about run whatever BL motor you want, not about hopping up too slow of a BL motor, buying the biggest pinion you can find, and making adapters so you can mount a smaller spur than was ever designed for your chassis.
I've got a challenge for track designers. Yes, every single Joe Blow that hits your track b%tches about everything. Yes, turnouts are spotty to poor, and you aren't making millions of dollars running a track. But, I'm so sick and tired of one line tracks. Yes, it's extremely hard to make an rc track with multiple lines, hell, nearly impossible, that's why I'm issuing a challenge, not making a request. It can be done, I've seen it on rare occasions. So track builders, in your next track layout, try to make a corner with two fast lines in it, put in an option section, and put in a jump section with two distinctly different rhythms if you enter from the tight or wide side. One line tracks are boring, they suck, they breed hackers, and are just plain bad for racing.
The Li-po battery shootout is getting closer, and the buzz is growing bigger each day. The BigSquid staff is being rounded up, as are lots of chargers, power supplies, and soldering irons. This shootout is going to take a lot of work and time. I haven't gotten the last count, but we've probably gotten close to a dozen packs now. We'll have everyone from editor types, to factory shoes, to local bashers helping out. For the more technical data, we'll have an actual engineer on hand. We are committed to two things for the shootout- fairness and accuracy. Hopefully it'll make for some great reading for you guys afterwords.
Also of note from the shootout is a new found respect for one of the vendors that submitted packs. A particular company is stoked about the shootout, win or lose. If they win they will be stoked, if they lose, they are looking forward to improving their product to be better than the winners. Awesome attitude, one I truly respect.
By the way, most every vendor that has submitted packs has sent us more than just one. Most companies have sent in both their low end Li-po, and their high end Li-po for the shootout. So not only will you get to see a comparison of performance from company to company, but also between price points within one brand.
That's it for this week, support your LHS's and local tracks, even if they are all one lined.
Your Cub Reporter