THE Cub Report, 07.02.2012, Version- Pastrana Got Freak'n Hacked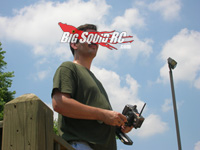 Yes, the X-Games took place a bit earlier than normal this year, in case you didn't notice they went off over the weekend. The biggest news? The middle school invasion and the fact that Travis Pastrana got hacked good ole' "rc style" in the rally cross race. Such a pity, I was looking forward to watching TP and freshly turned HPI man Ken Block battle it out in the rally main. Maybe next year…
Speaking of rc racing, last week Brian posted a blurb about a new timing system from a company called "Kawada". This particular timing system allows a handicap for the noobs. Maybe you aren't an rc racer, if not, let me explain something to you. It's quite common at the local level to have a handful of super fast/experienced guys racing heads up against noobs. Actually, I don't think I'd call it racing, because as Ricky Carmichael used to say "If you are getting the blue flag (meaning getting lapped), it means there is a race going on and you aren't in it!". It is common to see the winners of local races finish 5 or more laps ahead of the noobs they have to race with, and really, all that succeeds in doing is running off the noobs. Anybody that goes to a race of any type hopes (and deserves) to at least have a small chance of winning, and sometimes that just isn't the case in rc. At many small local tracks there are just too many classes with too few entries. This results in seasoned "regional speed" racers going head to head with guys that simply have no shot of finishing within 5 laps of the winner.
Anywhos (and yes I know it's supposed to be "anyways", but I like bugging certain people)… Handicapping in full scale drag racing is quite common and I truly believe it has a place at the local level in rc where there aren't enough racers for separate A, B, C, D, mains etc. I know every local fast guy is shaking his head and pounding his fists when he hears something like that, but racing at the local level is about improving your skills, having fun, and providing for fair racing. If you only have 6 guys sign up for mod 2wd SCT every week, and two can make the B at the ROAR nats, and the other 4 guys are driving box stock Slash's with BL systems in them, then the racing would be more "fair" to all involved using a handicap system. The noobs would actually have a shot at going home a winner, and the uber fast guys would actually have to push their own skills to win. Just say'n…
On a much different note…
See the new Ken Block HPI car? Ouch Traxxas!
Ok, so Traxxas may have lost Block to HPI but they did pick up Ashely Fiolek and Liam Doran. Liam Doran is a Euro rally car guy very few people outside of rally circles have heard of in the USA, and Ashely Fiolek is an American women's motocross champ. If I was the man responsible for signing some big rally name after losing Block it surely wouldn't have been Doran, as the American public is mainly obtuse to rally except for watching Block, Pastrana and Foust huck it at X-Games. And while I totally dig Fiolek- she's faster than the VAST majority of men to ever throw a leg over bike (including yours truly) and she has kick a$$ style and isn't afraid to jump the big stuff, unless you are a core mx'er you've probably never heard of her.
We seem to have a LOT of new readers here on BigSquid. In case you didn't know here is the schedule around this joint. Monday mornings bring THE Cub Report, Tuesdays we post our weekly review, Wednesday nights we hold chat sessions, Thursdays bring the "ASK Cubby" column, and Saturdays are Jeff's "Around The Web" (wait a minute… LOL), and all week long we filter through the rc news to post what we feel is most relevant to the bashing crowd. Also, here are the names you need to know from BigSquid- Brian is the head cheese, Jeff actually makes the website work, Adam cleans the floors and keeps the Dom properly chilled, I am the staff pundit (and make sure Adam did a good job with the Dom), Bill keeps the cars running and does all the real work, Tim and a couple other guys post the news, and pretty much everybody works on the reviews.
One last note to the industry types– we are working on new shootouts for both transmitters and battery chargers. The next transmitter shootout is going to be radio systems under $200, and our next charger shootout is for chargers under $100. If you've got a product that you want in the shootout hit Brian up with an email, Brian at BigSquidRC dot com. We are looking at about a 2 week timetable before we start testing.
That's it for this week, have a happy and safe 4th of July, and support your local hobby shops, tracks and bash spots!
YOUR Cub Reporter