THE Cub Report, 07.14.2014, Version- Born and Bred to Rip and Shred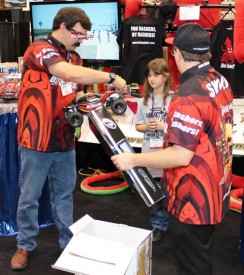 It amazes me how when every new RTR is announced there are a bunch of old school rc zealots that pop out of the woodwork and go into full idiot mode proclaiming its not worth buying unless it is a kit. Ok, so I understand that some people "like" kits, but to go into a full Chernobyl meltdown after each RTR is announced is a bit much, even by Cubby standards.
Why are the "kit fanboyz" so fanatical? I am certainly no psychologist, so my guess is whatever they may be lacking in life they attempt to make up for by being an "elitist" in the field of rc. They chastise people who don't share their hatred of RTRs, claim over and over again that RTRs are assembled by blind paraplegics, and state that if you are driving an RTR you are a noob. And after doing so, somehow, someway, it makes them feel "better".
How is the assembly quality of most RTRs these days? Generally they are much better than RTRs from a decade ago. We go over our review units with a fine tooth comb, and while we do still find a problem here or there, generally RTRs are assembled as good, if not better, than we would have assembled them. The people overseas that are putting these cars/trucks/buggies together do it 40+ hours a week, meaning they are experts at what they are doing. In comparison, an average hobbyist might only assemble one kit every few months. In fact, in the field I've seen more poorly built kits than poorly built RTRs over the last couple of years. It seems that while certain hobbyists "want" to build their own rigs, they don't take the proper time (or read the manual closely enough) to make sure it ends up being built correctly.
If you are driving an RTR does that make you a noob? I've personally witnessed pretty much every single big name in our hobby driving a RTR, so that certainly isn't the case. These big names are no different than the BSRC staff, or the majority of our readers, and they have no problem driving an RTR because it saves them time. It seems that while some of the elitist kit fanboyz swear they would never touch an RTR, the big names they worship have no problem doing so.
And… to all those wanna-be elitists that think every new car announced needs to be available in kit form only- you've probably never seen the sales numbers, but I have, and most kits just don't sell very well. If every new car were banished to being a kit, there would be a whole lot of companies going out of business.
Yes, sure, everyone in the hobby should assemble a kit (or two, or ten) to get a better understanding of the inner workings of an rc car, but there is absolutely nothing wrong with manufacturers putting out mostly RTRs, nor anything wrong with the people that buy them. The advent of the RTR has helped keep our hobby from dying off, and helped finance many of the uber kits that the so called "elitists" like to build.
That's it for this week ya bunch of rc snobs, support your local hobby shops, bash spots, and ready-to-runs when ya can.
YOUR Cub Reporter