THE Cub Report- 07.18.2011- Where Did All The Good Times Go?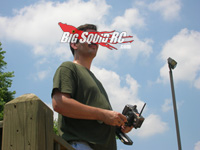 Hello core rc'ers, and once again welcome to a another fun-a-licious edition of THE Cub Report.
Did ya see Jesse Pinkman wearing a Metal Mulisha t-shirt on Breaking Bad tonight? How core is that? Fantastic episode to begin season 4, I highly recommend.
Now for something is that isn't talked about much in our industry, perhaps one of our industry's lil' dark secrets…
So… have you ever wondered where all our old BSRC test vehicles go? The manufactures send us product to test all the time, just what becomes of it after we are done? Well… in our case, some of the products get broken so they are disposed of properly. Other product is given away during contests or to some lucky kid at the local track. But… the bulk of it is kept to be used in demos and for letting noobs drive at bashes.
BSRC certainly isn't the only company given product for review, lots of mags/web-sites get stuff. Unfortunately not all old test gear ends up like ours does, some of it actually ends up getting sold for a profit. I've also seen a few drivers who get their gear for free pull the same trick, profiting from gear that was given to them in good faith.
Test product doesn't come with any type of contract or list of rules on what you can and can't do with it, but for us at BSRC it's just common sense that if a manufacture trusts us enough to send us product that we put it to the best use possible for the entire life of the product. Is it technically wrong to sell gear you were given no strings attached? Technically no, but I say morally yes it is wrong. Every time I see someone selling gear that was given to them in good faith makes me sick. And… some of you bad apples out there should be ashamed of yourself.
On a different note…
This weeks Tuesday review is of the Thunder Tiger 12th scale short course truck. The TT SC is a bit smaller than a normal 10th scale SC, but it's not a lot smaller. The TT SC is no joke and comes with brushless power and 4wd. I was lucky enough to get a lot of wheel time with the TT SC and I had a blast with it. The Thunder Tiger SC had above average power and I liked how it drove. We beat the truck hard and yes, even jumped it off the roof of a local drivers stand, tune in Tuesday to find out the final verdict…
Speaking of giving away trucks… it's time for "Win Cubby's Gambler". We are giving away the Venom Gambler I tested a few months ago to a lucky reader. So exactly how do you win my Venom Gambler? Well… I want to hear the top ten reasons you want to win it. Your top ten reasons can be comedic like a top ten list on Letterman, or they can be dead serious like how your dog just died, the bank just foreclosed on your Alpaca farm etc. So… if you want to win my Venom Gambler submit your top ten reasons to Cubby at BigSquidRC dot com. I will read all the entries and whichever one I like best wins! The winner gets my Gambler and I will post the winning top ten list right here in THE Cub Report.
Lastly… don't forget RCX Chicago is rapidly approaching (it's a little over 2 weeks away). If you are truly hardcore about your bashing you will be there. Our BigSquid bash crew will be there in full force and we'll also be putting on the ultimate bash even- Bash-A-Palooza. Want to attend the most uber bash ever held in America? Well then you better hit RCX Chicago. We are restricting entrants to just Monster Trucks and Short Course trucks, so sorry no 8th scale buggies or truggies. For more complete info hit me up via my email address above.
That's it for this week, support your local hobby shops, tracks and bash spots!
YOUR Cub Reporter