THE Cub Report, 07.22.2013, Version- Remembering The Way To Shell Beach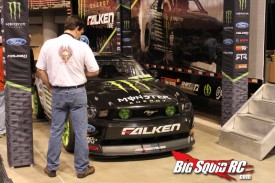 Yo MTV Raps and Happy Monday ya freaks, welcome to THE Cub Report.
There was the Washougal Motocross National over the weekend, but all the attention has turned to Jeff Alessi/LaserGate. It's sad and it's a mess, but I hope that it proves to be a turning point for those that need it.
Onto rc…
Our Rally Car Shootout should be going up any minute now. Ya, I know it's late, but all the best things in life are.
Our big bash and swap meet is getting super close. Make plans to attend, there will be lots of prizes, lots of fun, and lots of going home in a bucket (as Craig likes to say).
Over the weekend we got a chance to hang at the Joliet Illinois round of the Traxxas TORC Series. We've been going to the TORC series since its first year and it's remarkable to see how it has changed. The first year, while the racing on track was top notch, there were hardly any spectators up in the stands. Boy has that changed, this year I'd say the stands were 90% full. And more importantly to us rc'ers, back in the early days you could watch muggles walk by the big Traxxas retail trailer and look at it like "WTF are they selling there?". This year, the trailer was constantly filled with people buying new cars, buying replacement parts, and the muggles walking by weren't giving it some weird look. Hobby grade rc has gained respectability among the mainstream crowd, thanks largely to the crew at Traxxas. Here's to hoping all their big checks and hard work pay off for them handsomely down the road. They had the balls to go big, that's something that everyone has to admire.
Also on the TORC note… Travis Pastrana was racing the Pro-2 class again this year, but that didn't work out so well. On Friday night he definitely had good speed but ended up getting a flat late in the race. Then… he had steering issues and had to retire early on Saturday night. There is no doubting the talent or desire that TP199 has, but we don't get to see his best because he gets so little time driving the off road trucks. In a perfect Cubby world Travis would grow tired of pavement going roundy-round and go SCT racing full time. His true love after all is dirt and going big, and well, it doesn't get much dirtier or bigger than SCT racing. Given some real practice and set-up time TP199, we just might get to see what he's truly capable in an SCT. And… with his star power he just might take full scale SCT racing to the next level. Hey, I'm allowed to dream just like everybody else…
On a different subject…
I finished up the review on the Duratrax 835E electric 8th scale buggy last week. While normally the review would get posted late because I was slack'n off, I was actually busy and had real excuses for not getting it up last week. Anyways, you'll have read the full review to see what we really thought of the buggy, but the thing that struck me (and the rest of our staffers) as being the "big deal" was that we recorded a run-time of 24 minutes with it. 24 minutes of run-time, driving an electric 8th scale buggy WFO around our standardized "backyard test track" that we run all our test cars on. Yes I was blown away by that figure because I'm old school. I still vividly remember the days when I was worried about making the 5 minute tone with 1200's. Seeing that 24 minute raw number stare me in the face was quite a wake up call.
I love being Captain Obvious- because of the technology now available, running a whole bunch of short races is a huge waste of time. Running fewer but longer races makes the race day shorter, yet gives racers more track time. For example, lets say Happy Flower Race Track has 8 different classes and they run three 5 minute quals and a single 5 minute main on a typical Saturday. Lets say they average 4 minutes between races, and 10 minutes between each round. That equals about 82 minutes a round, and with four rounds that's roughly a total of 318 minutes (5 hours & 18 minutes). Racers end up with 20 minutes total track time for the day.
But lets say Happy Flower Raceways uses practice/warm-up laps to determine the qualifying order (instead of wasting 75% of their day on it), then run a pair of 15 minute mains with 4 minutes between races and 10 between the two rounds. That total race day would take 314 minutes but racers would get 30 minutes of track time. More track time with a shorter day of sweltering in the heat behind a plastic 4×8 table, I'm not sure why the idiots doing the racing now days haven't caught on to this fact. Oh that's right, they are resistant to change and are still stuck in 1987. LOL, I remember those days, they WERE great, Twister motors and 1200 mah NiCads, Culture Club and Duran Duran, maybe the rc racing crowd should consider moving on.
That's it for this week, support your local hobby shops and bash spots when ya can.
YOUR Cub Reporter