THE Cub Report, 07.23.2012, Version- When E.F. Hutton Talks…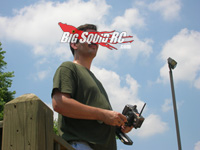 Hello fellow rc'ers, welcome to another edition of THE Cub Report, the satirical column that is responsible for 87.2% of the chat around rc water-coolers every Monday…
First off, VIVA FERRARI! Yes, the church bells rang yet again over the weekend, and yes, Alonso padded his points leads even further!
Now on to what really matters, rc…
So rc is on the verge of total domination by vehicles with scale looks, which of course is a good thing for the future of the hobby. But… one company has been a slacker, actually they've got a history of being slackers, and this company being late to the show room floor with a scale short course buggy has slowing the conversion over to scale looks. What I'm talking about here is- Axial has the EXO Terra buggy, HPI has the Apache C-1, Kyosho has the Ultima DB, and Losi has the XXX-SCB, but where are the slackers at Associated? Those guys would be last in line at free samples day down at the local @#$%@ house.
Short course trucks took a while to catch on, but once all the major players were in they've become the standard. Btw, when I say "standard", I mean for the vast majority of the buying audience, not the race crowd who are a small minority. The race crowd are still all over Martian mobiles. Anywhos, the rumor has been plugging away since the Losi SCB came out that AE was working on their own version, and yet we keep hearing more and more that AE will jump into the scale buggy class. Once AE jumps in they will finally cement scale looks as being the norm in rc. I for one can't wait for the day when the major classes are short course truck and short course buggy, instead of the Martian looking "buggies" and "stadium trucks" that old school racers simply can't get over. Btw, it took years for the core old school racers to switch over to brushless and Lipo, heck, many of them argued to the very end that brushed and Ni-mh was the bomb (OMG I am SOOO Glad to have not turned a comm in 8 years), but gradually over time even they finally said screw it and jumped into the 2000's. I can only hope that Associated one ups everyone with an uber scale buggy, one based on new tech instead of the tired old 4 series platform, one that truly looks scale, and one that turns even the oldest of the die harders around to driving vehicles that actually have a full scale counterpart.
Speaking of short course trucks… Losi announced their new 22SCT last week. Let's hope that "third times the charm" for Losi with a short course truck. Yes, the 22SCT uses the newest tech in 2wd electrics, but it comes with an amazingly high price point for what it is. The market will be the final judge of whether it makes it or not, but when you can buy its big brother, the Losi TEN SCTE, for nearly a hundred bucks less, the 2wd 22SCT had better be one SIC a$$ truck.
Also on the short course note… yes, the BigSquidRC crew had a way-super-uber-dope time covering the Traxxas TORC event last week. The TORC series has come a longggg ways in the last two years. The accommodations keep getting better, the racing has gotten even better, and the size of the crowd grows each year. I can honestly say that I enjoy watching TORC racing, it's just plain cool to watch those guys huck 4000 lb trucks with 900 horsepower over 100 foot tabletops. However… and this isn't the fault of Traxxas, their were some security issues at the Joliet round. Route 66 Raceways needs to hire some freak'n security guards. Having (I'm just gonna guess here) 10 thousand drunk off road fans comes with inherent issues, issues that 3 rent a cops can't handle. The majority of the BSRC crew didn't have any issues, but I noticed multiple instances of barbarism, with the grand finale finding 2 plastered young women (I use the word "women" pretty loosely sometimes) pee'ing on the ground next to my 5 series BMW as I was getting ready to leave. The drunken brawl called "tailgating" at the TORC event in Joliet was closer to a Die Antwoord concert than a family friendly off road event. In fact, I'd go as far as to recommend you NOT even think about taking kids to the TORC event in Joliet next year. And… unless you enjoy watching girls pee on your car, or dudes barfing on each other just for fun, you might want to consider staying home and watching it on SpeedTV instead of attending it live. But then, that's just me…
That's it for this week folks. Support your local hobby shops, they miss you, drop in and say hello to them! And… your local tracks and bash spots miss you too, give'em a visit if you can.
YOUR Cub Reporter