THE Cub Report- 07.25.2011- The 27 Club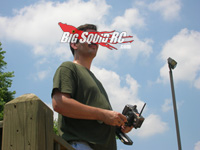 How awesome was it on the racing scene last weekend? There was F1 from Germany, Motocross from Washington state, and the IFMAR worlds from Finland, it just doesn't get any better than that. Congrats to Lewis "Moons Over My" Hammy for winning the German F1 GP, Ryan Dungey for winning up in Washougal, and Ry-Cav for pwn'ing the best in the world with his Thunder Tiger/Associated B4.1 and B44.1. Ryan Cavalieri is officially the baddest man on the planet with an rc car, us mere mortals can't begin to comprehend how much time and work it takes to accomplish what he did last week.
On a sad note… the world lost English R&B singer Amy Winehouse over the weekend. Some may have hated her, some may have thought her music to be pure trash, but I love her songs. But listen up kids- drugs are bad, very bad. May God rest her soul.
I am working on finishing up my review of the Horizon/Electrix Boost so it can be posted on Tuesday. If you don't know what a Boost is, it's an RTR 10th scale electric powered 2wd buggy that sells for under $120. Yes we track tested it, yes we bashed it hard, and yes I hucked it off the roof of a 2 story tall drivers stand. Is it junk? Is it worth the cash? Did it end up a pile of rubble? Tune in on Tuesday to find out. 🙂
Oh yea, I held a lil' contest last week called "Win Cubby's Gambler". I've had the pleasure of testing/wheeling the Venom Gambler for a couple months now and the longer I drove it the more I appreciated just how good of a truck it was, in particular how it suited my driving style in the turns. It was/is a gorgeous truck and a ton of fun to have around.
Venom isn't know as a car manufacture, the Gambler was their first attempt at a short course truck, and for a first attempt it came out great. We've had several long talks around the office about how hard it must have been for Venom to get the truck to market and have it turn out as one of the best in class. The Gambler was a great first effort, one that leaves my mouth watering to see what they can come up with in the future. If Venom can go toe to toe with Traxxas and Associated right out of the gate, where will they be a couple models down the road?
My "Win Cubby's Gambler" contest got off to a slow start with only a few entries the first couple days, then it took off like crazy. I spent all afternoon today reading the entries and I gotta give a huge thanks to everyone that took the time to send in an email. We ended up with a little over 400 entries, the vast majority of them were absolutely kick a$$ and much better than any of the drivel I write here. It was perhaps a bit alarming for me to see most of our readers are better writers than I am (not that I am an actual writer in any way shape or form, but I play one here). LOL
Originally I was only going to give away one prize, my Venom Gambler test truck, but because so many of the entries were kick a$$, I've decided to give out a couple consolation prizes as well. With that said the top ten list I am giving the third place prize a Big Squid RC Shirt, goes to Rick H.
Top 10 Reasons I want to Win Cubby's Venom Gambler
10. The Venom Gambler is Ready to Run for the 2WD short course class.
9. The Venom Gambler has a fully adjustable racing suspension.
8. The Venom Gambler is a great looking short course truck.
7. The Venom Gambler has the MORdrive system. I need it to take the competition by surprise!
6. The Venom Gambler turns on a dime and leaves nickels for change. I'd make money just turning left.
5. Big Squid RC lost a mudflap during the Venom Gambler testing. We know where it went…Cubby ate it!
4. I'm not a noob and meet the over 14 + age specification on the Venom Gambler box top.
3. The Venom Gambler came with a "new car" scent. After the Big Squid test drive, it has a New Cubby Smell.
2. The truck has great stock graphics but the Big Squid Stickers put it over the top.
1. I could give the car to my wife and she could have fun bashing. No way! I'd race it!
Congrats Rick H, you took third place, here's to hoping your new shirt fits and is half as cool as you are.
And now for the top ten list I am giving the runner up spot to… it was submitted by Thomas N and he wins a way-uber-dope Big Squid RC Shirt! Didn't see that one coming? 🙂
Reasons you should send me the gambler:
1. I have been involved in the hobby for 25 years and I have NEVER ONCE been in a race. That makes me a basher through-and-through.
2. I have been married for 7 years and my wife hates my hobby. She thinks I should do yoga or meditate. Therefore, I have to hide my purchases by having them sent to work. If I get something for free, I can tell her that it was free.
3. I HATE nitro. I had a nitro RS4 when I was in college and it was greasy and smelly and LOUD.
4. As soon as I get this truck I plan to clean it up and sell it on ebay. Just kidding.
5. In my job I get to work with kids every day. They always want to play with my toys and their moms are always looking for birthday and christmas presents. I will let the kids beat and bash the heck out of this truck and when they ask how much it costs, I can honestly tell them that I don't know (since it is one of the two questions I always get asked when I am out bashing in the parking lot).
6. Tim Mohr is my hero. National mini class champion and team driver for Big Green. How awesome is that guy?
7. Cubby's picture has a porn mustache, and the eye bar is just high enough that we can see it.
8. I once wrote Evan about the Savage XS, and he wrote back about 5 paragraphs in response. It is tough to find people in our hobby that can write, most of them will get on the forums and say "your and idiot" (sic). He got me so excited that I went out and purchased one on back order. Hopefully it will hold up better than my brushless CRT.5 which breaks all the time.
9. I loves me the Squid. I once bought a Sportwerks Chaos after reading the review in RCCA. It was a total piece of crap. If the Squid was around back then, I would have known better because you would've written about it.
10. Every time I see the gambler, I think about Kenny Rogers.
Thanks for having this contest. It was a nice tension break today. Keep up the good work
Congrats Thomas N on your second place, I hope you totally dig your new shirt!
And now for the winning top ten list…
10 I need a loaner truck my friends can borrow since they are too f#$%&*g cheap to buy their own!
9 My SC10 and Slash are tired of each other and are ready to make it a threesome.
8 I don't have enough trucks laying around waiting for parts/repairs. My name is Ken and I am addicted to triple backflips.
7 I can actually add another RC vehicle to the fleet without having to explain to the little lady what happened to checking account.(Tired of sleeping on the couch)
6 Big Squid stickers are already applied.
5 Actually I just want the stickers off the body, the rest will go in the trash.
4 I want to see if it will fit in a bucket when I'm done with it.
3 My dog ate my other truck. I swear!!!
2 I'm trying to set a new Guinness Book Of World Records for the largest RC collection and I only need one more to do it.
1 Big Squid owned it, that makes it priceless right???
The winning top ten list came from Ken C, congrats you have just won my Venom Gambler! Have fun triple backflipping it and best of luck getting it to fit in that bucket when you are done. 🙂
But… we are BigSquidRC, therefore we are not done giving away trucks! We are giving away two more brand new ones at RCX in Chicago 12 days, 7 hours, 39 minutes and 4 seconds from now. Keep your eyes on our front page for more details in the coming days!
That's it for this week ya bunch of goons, support your local hobby shops, tracks and bash spots!
YOUR Cub Reporter