THE Cub Report, 07.29.2012, Version: In a Mirror, Darkly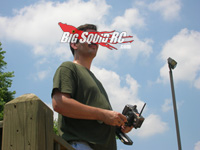 We have a big week ahead here on BigSquidRC, we are calling it Review Week. This week we'll be posting a brand spank'n new review each day for your viewing pleasure. Monday we start off with Brian's review of a hardcore bash-mobile, the HPI Bullet ST Flux RTR truck. Tuesday brings the review of another big-time bash truck, the ARRMA Granite 2wd RTR Monster Truck. Wednesday we'll be posting our review of the much talked about MIP Pro4mance tuning package for the Losi Ten SCTE. For you guys that like battery reviews you should enjoy Thursday, that's the day we'll be posting a full review of one of the new Pro-Match Racing Lipo packs (with discharge graphs up to 60 amps). Friday, well that one is a surprise for right now. 🙂 Any which way, we are going huge this week with all the reviews and we hope you enjoy reading them.
Over the weekend I was at an rc event and one of the local guys came up and asked me this question, "Cubby, I'd do anything to work in the rc industry, can you hook me up with a job?". I actually get asked that quite often, and I always (at least lately) give the same response. Right now there are lots of open jobs in the rc industry, if you've somewhat got your life together, you've got a half-way decent resume, and you are truly into the hobby, there is already a job waiting for you. Most of these jobs are based out of Champaign, Plano, or SoCal, but they Are there for the taking. Think I'm just kidding? One look at the "career" section of the more prominent rc companies will prove that I am not. To boil it down, to get a job in the rc industry isn't some impossible goal, with the right qualifications you'll have multiple companies banging on Your door to work for them, you certainly don't me to get your foot in the door.
Let me ask you a couple quick questions. Did you know the IFMAR 12th scale and TC on-road worlds just concluded from the Netherlands? Do you know who won? Do you know who won 2 years ago? I know a few industry and racer types that could easily ramble off the winners (and everyone else in the top ten), but… the other 99.9% of the population would have had 3 no answers to my questions. So where am I going with this? The amount of interest (and participation) for on-road in the United States right now just might be at an all time low. Congrats guys, you guys know who you are, you have finally succeeded and ruined on-road in this country. "Facepalm"
That's enough water cooler fodder for this week ya'll. Support your local hobby shops, tracks and bash spots!
YOUR Cub Reporter