THE Cub Report, 07.29.2013, Version – No Life 'til Leather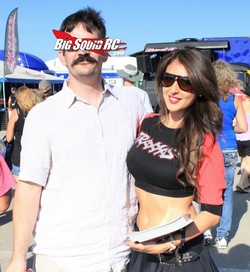 Hey it's Monday, time for another Cub Report, thanks to everyone that tunes in each week to see what kind of trouble I can get myself into. 🙂
First off, nope, not moto, not F1, but rc! Specifically- this weekend is a big dealio for us as we are having our BigSquidRC Uber Bash and Swap Meet on Saturday. Consider yourself cordially invited to come break some parts with us, to set up a free swap meet table, and to generally enjoy the basher lifestyle. We'll be having the usual events like RC Sumo, Shopping Cart Slam, and Obstacle Course, along with a few surprises.
For consumers, entry into the bash is absolutely free, as is setting up a swap meet table. If you are anything like me you've got boxes of old rc gear in your garage that really should be cleared out to make space for new uber gear, so bring it with ya and make some cash. 10 am is the official start time, feel free to bring your pit table, pit chair and EZ Up. Also, Brian will be doing a raffle to give away some of our beat up old review vehicles for prizes, that should be worth the trip alone. Click right HERE to get all the info you need to hit the event.
We are also giving away a brand new Helion Invictus monster truck and Helion Animus 18th scale SCT in conjunction HobbyTown USA Orland Park. To get the info you need to win Click Here.
For industry types, and it sounds like we've got a few coming already, if you are interested in putting up a display of some sort hit the "contact us" button at the top of the page and tell Brian what you are thinking of doing (and yes, it will be free, we just want to coordinate). Or, simply show up and get a feel for a hardcore basher crowd for marketing research. If you've been stuck behind the desk more than you like, this Saturday should be a great time to rub elbows with all the people you work so hard to make product for.
On a different note…
We just finished reviewing the new Futaba 4PL Super (4PLS) with telemetry. We hooked up all the sensors, gave it a bunch of trigger time, then I had one of my super awesome ideas to test its durability (these always seem to get me in "extra" amounts of trouble). Anyways, simply dropping/hucking transmitters has become quite mundane so I thought we'd up the ante on the 4PLS (insert evil grin here). The previous 4PL was arguably the best radio you could buy for bashing, so I really wanted to see what the new 4PLS could withstand. The durability test I came up with involved the roof of a building and a Thunder Tiger MT-4 G3. Did the 4PLS prove to be the toughest radio you can buy or did it explode into a million pieces? Am I going to get punched in the face by every single Futaba employee I run into for the rest of my life? Stay tuned to later in the week to find out…
That's it for this week ya bunch of lunatics, hopefully we'll see a bunch of you guys this Saturday at our uber bash, until then support your local hobby shops and bash spots.
YOUR Cub Reporter