THE Cub Report, 08.03.2014, Version- Parts (Or Lack Thereof)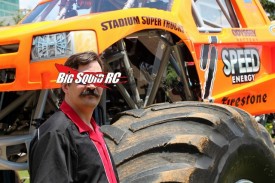 As I was reading Tabasco Sauce's column "Raging Rotors" last week, I found that it once again brought up the hot topic of parts availability. Over the course of the week it became the main topic of text messaging between myself, the BSRC crew, and various industry insiders. So here we go, here is a Cub Report dedicated just to it…
First up, if there is one job I would absolutely never want to have at a manufacturer, it would be the inventory control and logistics guy. Most of you out there already know what it takes to keep a proper inventory going at your place of work, so you already know the wretched nightmare that it can be.
As rc'ers we know that some models are hot sellers, some are not. Some cars only break hub carriers, while other only break a-arms. If you are the inventory control guy for a leading rc car manufacturer, the amount of variables you have to deal with is enormous, and many of those variables aren't even logical, they are the types of variables that would cause Spock's brain to explode.
Do I have the answers to how a manufacturer can keep all the right parts in stock at your LHS? Absolutely positively not, my brain hurts just scratching at the surface of this one. However, I do know this…
Margins are paper thin when releasing a new car/truck/whatever. If the manufacturer overbuys on parts it can totally kill the profitability of the vehicle.
If a new car doesn't have good support parts, word spreads fast in the internet age. This results in people not buying the new car/truck/whatever, resulting in no profitability.
Btw, while everybody hears about a parts deficit, you never hear about the stacks of left over carbon fiber towers that an overzealous buyer thought were going to be a hot seller.
There is a good reason Traxxas is number 1 in sales, actually, there are multiple reasons, and parts availability is one of them. The Traxxas model clearly presents evidence that if you want to move mountains of cars, there has to be a mountain of parts on LHS shelves to go with them.
In every one of our car reviews (and shootouts) parts availability is one of the things we "grade" on. Parts availability is one of the top reasons people buy cars, and for a surprisingly high number of people, it is the number one reason. We know it is highly important, consumers know how important it is, but some manufacturers are more concerned about a big initial PO on the car than making sure the parts are there to support it 2-3 years down the road.
There is a surprisingly high number of new cars released with very little parts support, then the manufacturer texts me to see if I have any insight on why it totally flopped. Parts support might not be the main reason in every case, but it can certainly be the kiss of death.
Ok… so before I get the texts, if I had a gun to my head and were forced (even then I wouldn't do it) to fix the part support problems for the worst offenders, this is what I would do (gulp). I would cut the check to steal away the guy from another company that is known for doing a great job at inventory control. I would then figure in a few bucks towards every new car to cover extra parts (that very well might just sit on a shelf somewhere), but I would rather be known for having too many parts, instead of too few. I would tell my design staff to use more existing part numbers in new platforms. And last but not least, I would target key LHSs in large metro areas to carry more of my parts. Heck, I'd pay for the new pegs, give them $XXX of free parts to get them started, and would drive to the shops to help them hang the stuff up myself, it really is that important. Parts have to be on the pegs for the long term success of a manufacturer, even if it takes some serious cash (and elbow grease) up front to make it happen.
That's it, I'm done, thanks for reading, have some big news next week, and support your local hobby shops and bash spots when ya can.
YOUR Cub Reporter