THE Cub Report, 08.05.2013, Version- Sheep in Wolf's Clothing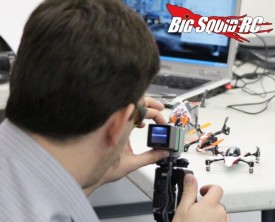 Hello there everyone out in rc land, yup, you found it, THE Cub Report.
There was no F1 over the weekend. Sigh. There was "sorta" moto (if you count X-Games, Brayton won and JLaw was there!). Sigh. At least I've got the last season of Breaking Bad to look forward to this Sunday.
In case you missed it (read- you have been blind and deaf the last month) our big Summer Bash & Swap Meet went off on Saturday in the parking lot of the HobbyTown USA in Orland Park Illinois. The people there were lucky because I decided to grace their presence (but that really goes without saying). HobbyTown and BigSquidRC had the parking lot filled with people, rc cars, and general mayhem, all the ingredients of a good time. We have to give huge props to all the people that turned out to support the bash, to Steve the owner of the HobbyTown – Orland Park, and to Pro-Line, HPI, Duratrax, and Hobbico for all the cool swag. Expect a post full of pics and results later today.
I use events like a bash for research, it's just how I'm wired. What did I learn? Here are a few things.
Adam "The Intern" is incredibly hard to beat at RC Sumo. I wish that kid could write as well as he wheels a car on an 8′ diameter circle.
Demo derby is much more fun to play with 30 people than 5 (and more brutal).
Xerxes is the Kinwald of putting an rc car into a shopping cart at distance.
There was a surprising amount of Thunder Tigers at the bash, that G3 platform has really taken off.
HPI Blitzs can take some insane punishment. We already knew this, but to see it again in person, watching multiple people drive/crash/huck the living daylights out of them all day is still awe inspiring.
Average users are going bigger/faster than ever. I saw more trucks 20+ feet in the air than ever before.
Those users going uber-huge are often times driving away from the big hucks to pavement, thus meaning they've put some serious time and mods into their trucks.
There was a kid out there wheeling better than me and he was only 5. F I V E.
High cell counts are all the rage. In the past 3S was considered "insane", at the bash 4-6S was quite common. You might be thinking, "There is no way they can use all that power!", you sure can when you are pulling crazy g's up a jump face.
On to a couple of more quick notes…
We had some record numbers on the site last week, huge props to all you guys for supporting and reading BigSquidRC. Seriously, a lot of blood, sweat and tears goes into the site, nice to know more than 3 people are reading it.
We are trying trying to wrap details on a St Louis Bash as we speak. Hopefully solid info on this one later in the week.
Join the BigSquidRC Bash Crew in Tolono Illinois this coming Saturday for RC Fest 2013. We'll be there covering the show and going big. Show up, break some parts and help make some cash for blood donation.
The Bash Crew will be covering the "Make it or Break it RC" scaler comp in Fults Illinois on Sunday August 18th.
Everyone and their dog seems to want to know what I think about the whole Vaterra/Traxxas thing, but strangely I don't really care on this one. I have the phone numbers to find out the real "scoop" behind it, but I haven't used them, I'm not so sure I even want to know. Which really is quite odd as I normally stick my nose into anything and everything. Go figure.
That's it ya freaks, thanks for reading BigSquidRC, and support your local hobby shops and bash spots when ya can.
YOUR Cub Reporter