THE Cub Report, 08.06.2012, Version: Roll'n All Zef Style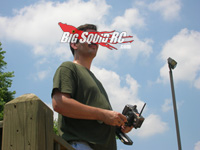 No mx national or F1 grand prix over the weekend. "Sigh".
Let me get a little old biz out of the way. Remember a few weeks ago when I mentioned that one of our interns helped out a big league rc manufacture at one of their booths but he didn't get paid? Well, he finally got a check in the mail. Needless to say our intern was totally stoked, and it's nice to see the big guns taking care of everyone.
You may or may not have known, but we busted out what we called "Review Week" last week. Monday started off with a bang- "Mini-Z" Greg's review of some Atomic Mini-Z motorcycle wheels and Brian's review of the HPI Bullet MT Flux. Tuesday we posted our ARRMA Granite review (if you haven't checked out the torture video yet you are missing out). Wednesday we went live with our MIP Pro4mance package for Losi Ten SCTE review. Thursday brought our review of a Pro Match Racing 5200 mah Lipo battery, and Brian posted his MaxAmps 12 Volt power supply review on Friday to cinch things up. All in all, 6 reviews in only 5 days, we certainly hope you enjoyed reading them. And while it may have only taken you a couple hours (tops) to skim over all 6 reviews, it goes without saying that we had a lot more time than that in them. Just looking at the MIP review, we easily had 50 hours in it, and that's exactly our job. Totally up all 6 from last week, and well, it's easy to see all of us have been quite busy. We do all this to save you a lottttt of time, and hopefully to help save you a lot of money.
We continue to receive emails about the pot I stirred regarding the state of on-road rc in America. Of course us BigSquidRC guys aren't much concerned about the racing side of on-road, but the everyday bashing side got use to talking amongst ourselves last week. The normal routine around here is to get really tired of working about 2 pm (who am I kidding, it's a lot earlier than that… LOL) in the afternoon, so we grab some gear and hit the pavement for a couple hours of bashing. It's not uncommon to see "Wrench" Bill driving an HPI Savage XL nitro truck, to see Brian wheel'n a Thunder Tiger MT4, or myself driving a Losi SCTE. However, one thing you will not see us driving is a touring car. Why? Because you really don't want to be the guy out bashing with us in the parking lot with a TC. You show up with a TC and you are instantly the guy we want to smash, crash, and spit out the back of our trucks. Oh and, our bash sessions almost always end up being a jump contest, and while we've hucked plenty of touring cars, it's never pretty, and quite frankly the ROI on jumping a TC 15 feet in the air is Very low.
It's clear to us whey touring cars aren't popular bash-mobiles, they are too small, and they simply drive like crap on normal streets. Each little rock and road joint ends up causing an unwanted trip in the air or flip. So what would the BigSquidRC crew do if we had to create a "bashing" on-road car? Well, I think it's already been done, and it doesn't look, or drive, anything like a normal touring car. Wayyyy back last August we reviewed a conversion kit made by ST Racing Concepts that converts a Traxxas 4×4 Slash into an on-road car. The converted "car" maintains all the marvelous wheel travel and good handling traits of the Slash 4×4, yet it looks like a road car. I've seen Adam "The Intern" huck the STRC conversion off big ramps without issue, and when you get slammed by a monster truck it lives to keep on fighting. Now that is what on-road bashing should be about.
The "big" manufactures have yet put out a production car like the STRC conversion (an on-road car that can be fun in real world driving conditions), but IMO that is what it's going to take to put on-road back onto the bashing map. Nearly every manufacture already has a 4wd off road platform to build one off of, but who knows if they'll ever gather up the gumption to bust one out. I have to think that one gnarly, burly, on-road car that can bash and huck with the best of them would have to be a good seller.
We are also talking about fixing the racing side of on-road, but the only conclusion we came to involved the rule book, gasoline, and a match.
That's it for this week gang, support your local hobby shops, tracks and bash spots!
YOUR Cub Reporter