THE Cub Report, 08.11.2014, Version- Quick and Dirty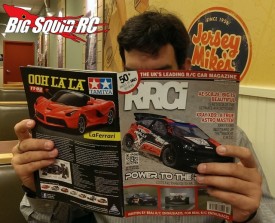 As the title states above, this is indeed a "quick-n-dirty" edition of THE Cub Report. Instead of laboring for days making sure the CR is something that would put anything Donald Barlett ever wrote to shame (read- in my dreams), today's CR is mainly a quick tease.
This weeks CR's has to be short because the BigSquidRC Bash Crew is once again packing for a trip to Southern California (we'll be on the ground by the time you read this). This particular trip was supposed to be on the down low, but after getting numerous texts from people wanting to meet up, people who should have had no clue we were going to be in SoCal, it seems our trip didn't stay a secret for very long.
With all that said…. of course I can't say why we are going to SoCal, or who we are going to see during our stay. I can't say if we are going out there to simply enjoy some smog riddled days in the sun, or because there are projects big enough to warrant the trip out. I can't say if we'll even be doing posts about our trip this time. If there are things of interest that can be posted on our front page, they will go up, but is NDAs are involved, we may not be able to post much, if anything at all. All I can say is that we'll definitely try to post as much as we can possibly get away with.
So that's it for this week folks, the biggest tease ever I guess. If you are a basher in the SoCal area and want to say hello (read- destroy some cars), we are on a pretty slammed schedule, but shoot us an email at the "Contact Us" link at the top of the page and maybe we can work something out. Until next week, go fast, spin tires, and support your local hobby shops and bash spots when ya can.
YOUR Cub Reporter