THE Cub Report, 08.12.2012, Version: You Love Her Coz She's Dead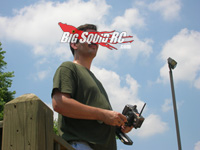 To start off the "news" this week- we have some big news coming out of our own lavishly decorated BSRC offices. Since we've been such slackers the last few months, we are about to go uber-huge- we will be giving away 1 brand spank'n new vehicle Each and Every Week for the next 3 MONTHS. Yes, you read correctly, we are giving away 12 new vehicles. We will be giving away vehicles from ARRMA, to Thunder Tiger, to Duratrax, all the way up to the way-super-dope Durango RTR's. So…. if you want to win a kick ass new rc, keep your eyes freak'n peeled on our front page for complete info.
But that's not all, far from it actually. We will be giving away Loads of new Pro-Line product as well. We are still ironing out all the details, but for the next few months we are going to give away an insane amount of really trick Pro-Line gear. We really thank all you guys for reading BigSquidRC, hopefully you guys enjoy all our upcoming give aways.
Oh and…. you probably saw Brian's post on the iHobby Cleveland show that is coming up in October. Like always, we'll be giving away a new vehicle to someone in the crowd at each of our demonstrations on consumer days at the show. If you are within an 8 hour driving radius, try making the trip to iHobby, it's something that every core hobbyist needs to attend before they die.
Also on the topic of iHobby…. we are in need of 2 female models to help out in the booth, give away stickers, and generally just stand around and look hot. The pay is decent, and it makes a nice addition to a resume. If you know of a hot female that might be able to work our booth at the Cleveland iHobby show, shoot Brian an email.
And lastly, seriously lastly, on the iHobby topic… Much of the rc industry is doing quite well right now thanks to all the long hours and hard work they've been putting in (and the mainstream advertising, among other things), yet, manufacture support for iHobby is lackluster. Do the manufactures hate the show or the people putting it on? If that is indeed the case I'd hope they would speak up and get things changed to make it a better fit for their company. Do they just don't want to spend the cash? Geezus, quit being such cheapskates guys, cut the freak'n check, put some people on an airplane and support your own industry (and, get to hang with the most important people in your professional lives, your consumers). If anything, get a booth there so you can harass me for 4 days, I'd gladly welcome all the smack talk for the show to be a success. And no, I have no commercial interest in the show doing well, I only want to see it do well because it is simply good for the hobby (yes my motives really are that simple).
On a mucho different note…
I had a meeting in SoCal on Thursday and Friday of last week with a certain rc company, so afterwards I decided to drop by West Coast R/C Raceways to check out how the prep was coming along for the ROAR Supernats being held this week. I was treated with nothing but rudeness while there, which I normally accept when people know I am "Cubby", but the people being a-holes to me at WC didn't have a clue to who I was. As far as they were concerned they were just being rude to some Joe Blow that walked off the street. You'd think that during the biggest event they'll probably ever host that they'd treat each and every person in the best way possible. What is the use of putting on a "prestigious" event if you just end being douchebags to people? Isn't the point of get'n a big event is to impress everyone with not only how good of a track you make, but also how good you and your people are? So ya, instead of hang'n around a few days and covering the event, I caught a flight back on Saturday, feeling 100% certain I was not going to miss anything important.
And… don't even get me started on the whole ROAR "Supernats" topic. What the heck is a ROAR "Supernats"? Well, it's ROAR holding a "national" level event that crowns 11 different champions over a 9 day time span. In other words, it is everything that is wrong with rc racing. There are wayyyyyyyyyy too many different classes, and the event is wayyyyyyy too long for its own good.
Races are held for two reason- to determine A winner, and to SELL product. How the heck do you determine who the fastest rc racer in America is when there are 11 different classes with potentially 11 different winners? If I was indeed the fastest guy in America, the guy who put in the longest hours wrenching and practicing to become the best of the best, and I had to share the spotlight with possibly 10 other "national champions" I'd be pissed.
On the sales side of things, when you water down a "national championship" by crowing dozens of them each year, consumers can No longer tell by race results what the fastest gear is and what is not. Just how many different press releases are there going to be, by how many different companies, after the "Supernat" (LOL) is over telling the public they are the "national" champion? I can tell ya how many, wayyyyyy too many. So many different PR's that all those Normal Joes are either going to be too confused to take the results seriously, of so overloaded by the shear amount of different national champions that they simple ignore the results. Certainly the ROAR "Supernat" is going to be a big event, certainly there is going to be a lot of blood, sweat and tears in that building during those 9 days, but sadly it does nothing to truly find out who the fastest rc racer in America is, nor will winning result in a proportionate impact on sales floors. "Sigh"
Oh and, one last note… Traxxas and Stadium Super Trucks?
That's it for this week ya'll, support your local hobby shops, tracks and bash spots (and trade shows!!!) if ya can!
YOUR Cub Reporter