THE Cub Report- 08.15.2011- Sand Baggers Delight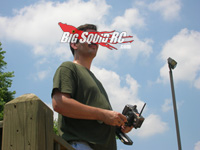 Welcome to yet another exciting week in our wonderful hobby of rc. 🙂
What was the big rc news last week you might ask? HPI announcing a new gas (not nitro) powered monster truck coming in 2012, that's what. I guess the obtuse might have just blown right by that PR, but I saw it as the first sign of a big change coming- the switch back to fuel dominance. Our hobby goes in cycles, for years fuel is dominant, then electric takes over. So… right now with electric being king, it's only a matter of time for fuel to take over. Current nitro engines certainly have plenty of power, what they don't have is consistency, convenience or life span. Around the office we've been expecting the almighty Traxxas to come up (ok- pay for the r &d) with the solutions needed to put nitro/fuel back on top, but after HPI's press release, perhaps they have beat'em to the punch? Is that a TRX sticker I see on Fonzie's gas tank? Nawwww, surely not…
Speaking of Traxxas stickers… Traxxas got mad love on NBC last weekend during the broadcast of the AMA Unadilla motocross national. I am still amazed whenever I see rc in the mainstream, and it doesn't get any more mainstream than NBC on a Saturday afternoon. Btw, the latest Traxxas tv commercial is the coolest thing I've ever seen- very professional, and done in such a way as to get my blood pump'n. Good stuff there Traxxas, for both us hobbyists and for those that have never heard of hobby grade rc before.
Oh ya, one more thing about Traxxas… TRX has released "official" info on their new Lipo batteries. The biggest news on their batteries? Their "Lifetime Battery Exchange Program". To quote the PR, "For the first year ownership, Traxxas will replace any battery found to be defective at no cost." After the first year (once again quoting the PR), "After one year, any Power Cell LiPo battery in any condition can be exchanged for a new equivalent battery for just 50% of the new pack's list price, no questions asked.". Should be some interesting days ahead for the people in the Traxxas return/repair department, LOL.
The most prestigious amateur motocross championships held in America went down last week at Loretta Lynns in Tennessee. One of the news stories out of the race was the fact the fastest lap of the week was busted out by a "B" rider. If you aren't familiar with moto, the "B" class is considered "intermediate", "C" is considered "novice" and the "A" class is considered "expert". So… when an "intermediate" rider busted out a faster lap than anyone else at the event, of course the term "sand bagger" got thrown around a lot (like it is every year at Loretta's). Which got me to thinking about a recent ROAR national where a former IFMAR world champ won a 13.5 class (for those that might not race rc much, the 13.5 class is considered "super stock"). And as we all know, the original purpose of "stock" classes in rc was to provide a class for noobs to race in.
Anyways, the fact an IFMAR world champ won a 13.5 class at a ROAR nat raised a lot of questions in my mind. Why did ROAR allow an IFMAR world champion in a 13.5 class? Why did that racer even want to race in a "stock" class? Why would a manufacture allow their staff IFMAR champ to race a 13.5 class? Why would that manufacture advertise the fact their former IFMAR world champ won a 13.5 class? Why didn't any of the other racers at the event have a problem with a former IFMAR world champ running a "super stock" class? Lastly, (and in my mind most importantly) just where is the honor in having an IFMAR world champ on top of the podium in a stock class? Pathetic, lame and outright sad…
That's it for yet another scrumptious edition of the webs most influential (and satirical) rc column, THE Cub Report. Support your local hobby shops, tracks and bash spots. And oh ya, grow some stones and don't sandbag (or allow it to be done).
YOUR Cub Reporter