THE Cub Report, 08.20.2012, Version: UFO Classes For Everyone!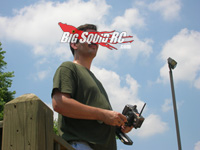 First up the important stuff- don't forget that tonight at 8pm CST we are giving away a way-super-uber truck. Hit THIS LINK to register! We'll be announcing the winner tonight at 10 pm CST. But… even better, if you don't win, we are giving a truck away EVERY week for 3 months so you'll have plenty of chances to win!
Last week was a busy one for us around the BigSquidRC offices, Jeff was busy doing something that even NASA scientists wouldn't know how to explain, Intern Adam was back to school (which really cuts into his cleaning the BSRC offices time), Wrench was doing what comes natural to him (destroying stuff, then fixing it), Tim was busy finding the most obscure items possible to post on the front page, Craig The Uber Ramp Guy was busy making quads out of doubles, Brian was work'n the phones trying to find more advertisers to pay for all the bandwidth you guys are burning up, and I was out exploring all new ways to destroy rc trucks. Fun, oh what fun. Anyways… we've been working on reviews for the new Duratrax 8th scale buggies, been getting some video of bashing one of the Durango short course trucks, been working on a review of a Checkpoint saddlepack Lipo, as well as loads of other stuff. Any which way, there just haven't been enough hours in the day around here, all thanks to you guys.
A reader ours noticed that one of the rc media sources uses the word "exclusive" a wholeee lot and shot me an email asking me (yes me.. LOL) to explain how their post was an exclusive when dozens of websites also had the same information posted. Certainly the word "exclusive" carries a lot of weight when it's true, but unfortunately in the internet age, nothing, and I mean Nothing, is "exclusive" for more than a few hours. And when that word is used when something isn't exclusive, it damages the credibility of the source, and I don't think I even have to mention that certain media sources simply can't afford to lose any more street cred. Personally I don't care what anybody else puts up, I'm too busy workn my butt off, but I do find it laughable when other media sources shoot themselves in the foot just for kicks. Just say'n…
Ryan Cavalieri is get'n a bum deal. Why? Because he is an all time bad-ass of the same magnitude as Masami/Kinwald/Johnson, yet because every Joe-Blow trophy race gets the same amount of media coverage as the ROAR nats and IFMAR Worlds, most average consumers don't realize he is one of the all time elites. Yup, posting coverage of every "Friday Night Worlds At Bubba's Race Shack" waters down the importance of the legit "big races", as does having dozens of ROAR national champs. "Sigh". Anyways, in case you didn't already know, RC is arguably the best driver this hobby has EVER seen.
Speaking of ROAR nationals… the "Super National" out at West Coast just got over after 9 days featuring 11 classes (RC won 4), and guess what? There is another ROAR nat this week, this time right here in BigSquid's backyard, Leisure Hours Raceway in Joliet IL. This time only a half dozen class champs will be crowned over only 4 days. What's up with that? Did someone miss the memo that stated "real" big races have to last a month, have 30 rounds of quals, and feature 60 different classes? Maybe next year…
Yup, that's all the sarcastic rants that I can come up with this week folks, support your local hobby shops, tracks and bash spots!
YOUR Cub Reporter