THE Cub Report- 08.22.2011- Version: Ice Station Zebra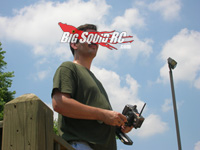 There was no F1 race last weekend, nor an AMA motocross… and uggghhh it rained enough on Saturday to waterlog every rc track this side of the Mississippi. Normally I'd have considered the weekend an entire loss and confined myself to the man-cave with a bottle of Jonnie Walker green label, but I looked at the brighter side of things and busted out my Losi Micro SCT instead. Can anyone say indoor rc supercross? Heck yes it is great fun, especially the huge triple between the sofa and the entertainment center. But… how the heck am I going to get the scattered tires marks off the walls?
But enough rambling… (oh wait, that's my specialty!)
Win CUBBY's Electrix Boost! We haven't given away a car for 2 weeks so it's about time we gave something away. I am giving away my Electrix Boost, yes the one I hucked off of numerous buildings and drivers stands and used in our BSRC review. And yes it is in working order. And yes it comes covered with uber BigSquid stickers. What do you have to do to win it? This Wednesday "around" 7 pm CST we will make a post on our Facebook page about the Win CUBBY's Boost contest. If you are the 100th person to reply to the post on our Facebook page you win! Clicking "like" doesn't count, you have to reply to the post. No, I don't care what you say in your reply. Simple as that. The Electrix Boost has been a favorite of mine for general bashing, I actually hate to see it go. Good luck to you all, and remember 7 pm (cst) this Wednesday on our Facebook page is when the contest starts!
So… ever heard of Racer X Illustrated? For those that haven't its arguable the top of the heap in supercross/motocross mags. Oh and… they have their sh!# together (read- they have a great product and sell a LOT of mags). Sometimes I wonder if the rc rags even try to sell magazines anymore. Why would I say this? I say that because they don't do what it takes (now days) to actually sell magazines. Their product (the actual content of the mag) is generally crap- meaning very little actual content, and what content is there is either worthless, obviously a thinly veiled plug for an advertiser, or simply old news. Also… when you look at a current rc rag (when you can find one) it seems all they want you to do is follow them on Facebook, or scan a code (it seems like there is one on every page! LOL) with your smartphone to take you to a website. It's like the rc mags are more focused on getting you to the web than you actually reading their mag. Lastly, working for who I do (outside of BSRC), I am constantly bombarded by calls from magazine sales reps literally begging for me to buy advertising, I swear they must hire former collection agency personnel to work as sales reps, they are as relentless as they are brutal. Quite simply- the magazines seem to put far more time and effort into selling advertising than they do on actually putting out a good magazine that people would like to read/own.
Racer X is a kick @ss mag, they sell lots of subs, and their magazine content rocks from cover to cover. Readers still anxiously wait for the new issue to hit their mailbox, and once it arrives you had better find 3 hours of free time to read it. When was the last time you could say that about an rc mag? Racer X also does uber promo's to entice new subs. What kind of uber promo's? Well… next weekend is a great example. Racer X is having a "ride day" on Sunday after the Southwick National. A few way-super-dope big name pro's (Fro, Doug "Moto God" Henry and John Dowd) are going to be there to ride with the masses on the whoop'ed out national track. When was the last time you could just hang out with 3 big name rc guys and drive the track with them for fun? The ride day is free to all current subs, or you can purchase a new sub for $20 at the track.
A person may pay $20 for a Racer X sub, but their subs typically get way more than that in return. For example, I'll admit I currently have 2 Racer X subs. I bought a second sub recently because it came with an uber Racer X/One Industries shirt for free. I kept the shirt and I give my extra copies to a kid at the track. And it's not rare when you get something "special" along with your Racer X sub, its the norm. When was the last time one of the rc mags gave you $20 worth of swag when you subscribed with them?
Racer X is certainly a presence on the web, but it doesn't seem like it's their sole goal in life to get you to their web-site. Their mag is state of the art, filled with meaningful content that every Joe Blow doesn't already know, and the pics on their pages are works of art. When was the last time you saw a pic in an rc mag that made you feel like ripping it out and putting up in your wrenching room?
Yup, it's my job to complain, it is not my job to point the rc mags in the right direction. But I can do what I like here, so here are Cubby's Crazy Tips For Making The RC Mags Relevant Again.
1. If a sub to RCCA cost $25, give me a free MIP Thorp 2.0 hex driver when I sign up. Or give me a free RC Driver pit mat (ok, it's gonna have to be better than that… LOL). Or some limited edition magazine loincloth, or a free drive day with Cavalieri, Drake, and Tebo. Give me something, because it's gonna take more than just your mag to get me to subscribe.
2. More original content, a lot more. By this I mean content that isn't re-hashed press releases, nor articles "spotlighting" an advertisers product just for the sake of getting them more page-time.
3. Honest reviews would certainly be nice. Ones written AFTER actually having driven the car/truck would be sweet. Reviews not pre-approved/written by the manufacture would also be quite welcome. Your readers do notice that you just called the biggest piece of crap on the planet "The perfect truck, a MUST buy!".
4. Quit covering Bubba's-Squirrel-Holler-Spring-Fling-Wing-Ding-Super-Duper-Nationals and give more in depth coverage to legitimate elite races. Two pages of coverage (mainly pictures) doesn't really capture the spirit of an elite event. You mean to tell me there was nothing worth reporting over the entire week at the biggest race of the year?
5. Editorial/opinion pieces need to actually say something (not be all fluff). I haven't read a good editorial since RC Car mag died.
6. Seriously, do I need to read about how to glue tires or how to solder every other month? There are 8.2 million videos on YouTube on how to do both of those things, not to mention your mag has already covered them 400 times in the past. Noobs will figure it out, trust me on this one. I didn't have YouTube or a magazine around to teach me and my tires stay on just fine (except on greater than 4S, but that's really a physics thing… LOL).
7. Readers don't care to read about something that happened 4 months ago, or heck even a week ago. If reading your magazine is like looking at the front page of NeoBuggy from 3 months ago, you are doing something really wrong. Old news is just that, old (read- worthless).
Ok, I could go on, and on, and on, and normally I would, but I have 3 more motos of Micro SCT to run today including the main event where we let the dogs chase the trucks (I hate DNF'ing a main because the dog ate my truck!!!). Till next week, support your local hobby shop, tracks, and bash spots!
YOUR Cub Reporter
PS- We are conducting one of our legendary shootouts this Sunday in Peoria Illinois, email us if you want to attend!