THE Cub Report, 08.27.2012, Version: Paid To Be Contrary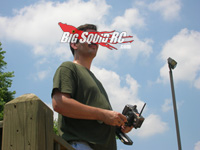 Hola rc'ers, thanks for kick'n off your week right here at BigSquidRC.
First off… I just got back home from the world renowned Slot and Wing Hobbies located smack dab in the epicenter of the rc universe, Champaign Illinois. I'd like to give a big thanks to Randy and the rest of his crew for letting us finish up our latest shootout at their new carpet indoor rc facility. Just what Shootout were we finishing off you ask? Our Mega-Uber BigSquidRC 2wd Monster Truck Shootout. Yes indeed fine people, we gathered three of the most popular 2wd Monster Trucks on the planet and put them to their limits (actually well past them). The trucks we chose to include? The Traxxas 2wd Stampede vs ARRMA Granite vs ECX Ruckus, all three affodable, entry level bash machines.
I don't need to tell you guys what a hardcore basher the 2wd Stampede is, it has a long and well documented history of being one of the best bashers of all time. It would be hard to think any truck could challenge the Stampede for bash supremacy, but after testing the ARRMA Granite and the ECX Ruckus, we found out that they also make great bashers. Three great trucks, one extremely popular product category, we could not resist putting them head to head to see which truck was actually the best of the bunch.
For our latest Shootout we used all the same test categories that we used in our 4wd RTR Short Course Truck Shootout. These are things that we feel are high priorities to a typical basher before buying a new truck. We tested top speeds, how they drove on different surfaces, how they jumped, compared their features, ect, to determine the truck that we feel is the best of the bunch overall. We've still got a tiny bit of testing to finish up, but look for our 2wd Monster Truck Shootout to hit our front page on Tuesday September 4th. Mark that date down because hopefully it'll be some interesting, and informative reading. Who won? Who broke in half (yes, one of them did!!!)? Who was the fastest? Which one IS the king of the hill? Find out September 4th.
On another note…
Just fyi… the final mains got rained out at the ROAR paved on-road nats in Joliet Illinois over the weekend. Congrats to the winners, one of which being Associated's Rick Hohwart who pwn'ned the mod TC field. Rick has raced a longggg time at an extremely high level, props to him and the AE crew on yet another national title.
But… the fact that the Leisure Hours ROAR national was rained out got the BSRC crew into a large argument. Half of us believe that rc should be raced rain or shine, while the other half felt the opposite. Certainly the guys voting for racing in the rain have good points- "waterproof" electronics have come a long ways making it possible from a technology standpoint to race in the rain, and also that racing in the rain is more "realistic"/more fun. Many forms of motorsports race in the rain, from motocross to TORC to Formula 1, if anything it's a bit odd that rc'ers do not. On the other side of the coin- it doesn't take much water to make a track unpassable for a low slung rc car, not to mention the amount of wrench time on an rc truck after a mud race would have to be a bit excessive.
Personally, after being in the hobby so long I quite honestly never really gave a second thought to racing an rc in the rain. I killed soooo many electronics back in the day that my brain is automatically wired to run for the EZ Up the moment H2O starts falling from the sky. But, after going back and forth with the guys on the subject, I've warmed up to the idea of it. Back in my motocross days I never had more fun than the days when the clouds let loose. To me it was simply more fun to race in the ultra dirty and demanding conditions of a good ole' mud race than on a normal dry circuit. After much discussion, I'd have to think that racing a properly prepared rc would be just as fun in the nasty stuff. So… should rc be raced rain or shine? Take it up with your favorite bench racing buddies, hopefully you have just as much fun arguing about it as we did.
That's it for this week, support your local hobby shops, tracks and bash spots!
YOUR Cub Reporter