THE Cub Report, 08.10.09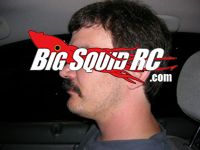 Ever notice how freak'n annoying race track announcers are when they keep begging for more marshals? It's a 110 degrees heat index, the previous race only had 4 drivers, and the next race is a 30 minute gas main featuring 12 angry "sportsman" buggy drivers that insist on driving over their heads and crashing twice a lap. Would anyone in their right mind volunteer to marshal such a race? Racers pay their entrant fee to race, marshal ONE race after their own, and to have fun, not get heat stroke and sprain an ankle flipping over some idiots buggy. I am perfectly fine with no marshals. I hate marshaling that bad, and it might teach some drivers throttle control.
Ever notice how crappy most "HD" channels are? We pay all this money for our fancy dancy HDTV's, then get crap content for them. Most of the major HD channels butcher the aspect ratios. Nothing worse than stretching out a 4:3 aspect movie and spitting it back out in the "HD" format. And even worse, ever notice that the words coming out your tv speakers rarely match the lips moving on the screen? Digital/HDTV is the worst at this, and it infuriates me. It's kinda like watching and old Kung Fu movie, but it's in English, and on every channel. If you haven't noticed it yet, Now you will, and you'll be PO'ed at me for mentioning it.
Ever notice all the rc press releases now days? I'm not saying it's a bad thing, it's actually a good thing for everyone involved. Consumers like keeping up on the latest news, and manufactures get free, yes free, advertising. The mystery to me is why some manufactures still haven't caught on. The internet has been largely embraced for over a decade now, yet some manufactures still don't take advantage of sending out PR's for free exposure. Should you be a manufacture, you can always send any of your news to Brian (at) bigsquidrc.com.
Ever notice how battery capacity has increased 5 fold, yet race lengths are still exactly the same as 2 decades ago?
Ever notice how you spend 75% of your race day qualifying to gain a 12″ advantage on the start of the main, then 25% of your day getting hacked to the back of the pack? I'd much rather spend the majority of the day racing, not qualifying.
Ever notice how 80% of all marshals will grab your 8th scale conversion and go running to the pits with it thinking it's a flamed out nitro?
Ever notice how 93% of the time your nitro gets marshalled by the sides you flame out? Marshals- please grab nitros by the front and rear, or by the tires!
Ever notice how any nitro engine, regardless of price point, only starts easily 15% of the time after the 1 gallon point?
Ever notice it's impossible to have too many Deans plugs? Or glow plugs? Or zip ties? Or body clips? Or AA size batteries?
Ever notice no matter what the SoCal people say, the rc industry really is epicentered in central Illinois?
Ever notice how your nitro engine works perfectly, except right before the start of your main? (same thing can be said for glow igniters and starter boxes)
Ever notice how the computer timing/scoring system at your local track works perfectly, except for during your best TQ run in years, then it has a brain fart, and they have to run the qual over again? (where of course you get hacked like crazy all race)
Ever notice that before you can do anything on a PS3 that you have to do an update? Doesn't seem to matter if it's a new game, a new BluRay movie, or just visiting the PS3 store, you need to update. I hate updates.
Ever notice there are no hot chics at your local track?
Ever notice there are a bunch of single 40 year old males racing?
Ever wonder if there were more hot chics at the track that there would not be as many single 40 years olds?
On to a more serious matter. BigSquid RC and Leisure Hours Raceways are asking for your support of BASH-A-PALOOZA this Sunday. Entry fee is only $12, a bargain in today's age of $40-120 entry fees. There is a ton of swag, hopefully enough that every entry takes home a free door prize. The event is open to all bash type vehicles, so yes, your Slash, Revo, E-Revo, Savage, T-Maxx, Savage Flux, Rustler, Stampede, and dozens more are perfectly good to enter with. So please come out to support your sport, hang with the BigSquidRC wrecking crew, and have a great time bashing your favorite rc with a great group of guys.
BigSquidRC is looking for booth babes for the I-Hobby show this fall. If you are booth babe material, email Brian (at) bigsquidrc.com. All nude shots have to be pre-screened, if you have those, they need to be mailed to cubby at bigsquidrc.com. Or you can just apply in person this Sunday at BASH-A-PALOOZA. The latter is much preferred.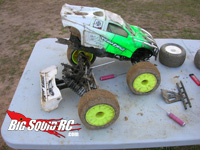 We need your photo entries for the "worst carnage" picture contest! Do you have a shot of your ride that looks like THIS? Enter the contest and possibly win a really cool prize! We know you've got some great pics out there, share'em with us.
That's it for this week. Hope to see many of you at BASH-A-PALOOZA, and support your local tracks and hobby shops.
Your Cub Reporter