THE Cub Report- 08.22.09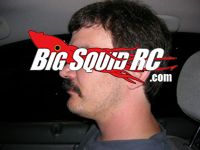 Well I'm back from a one week hiatus, after taking a much needed break from the depths of rc mongering.
Rumors, rumors, rumors, don't you love them?
Rumor is Traxxas will be introducing an uber rock crawler at this falls I-Hobby show.
Rumor has it that Associated B5/T5 platform is much closer than you think.
Rumor has it that a forced apology from BigSquidRC to a certain sanctioning body should not have been made.
Rumor has it that Kimi Raikkonen is actually a vodka/ice cream loving human robot.
Rumor has it that Formula 1 will be returning to the North American continent in 2010.
Rumor has it that BigSquidRC has not received enough entries in it's "Tore Up" photo contest, a contest that showcases rc cars/trucks after they have been crashed.
Remember a few weeks ago that I mentioned that each new week brings an ugly body to the rc market? Caught a glance at the new Robotronics EB-1 buggy? Wow. I mean seriously? Holy cow, just when you think rc cars can't get any uglier, that old record gets shattered.
Another new entry to the market that has a less than stellar looking body is the Hot Bodies Ve8. While it's body isn't nearly as ugly as most, it reminds me more of a UFO than an off road buggy body. Thankfully, underneath it's less than handsome shell is a lot of new era 8th scale brushless tech. The major difference between the HB Ve8 and the rest of the 8th scale brushless crowd is it's chassis, as HB has elected to go with plastic, instead of the heavier metal norm. And much like the HPI Blitz, the Ve8 is receiving a very warm reception from the internet pundits. A company known mainly for it's Savage the last half decade, HPI/Hot Bodies now has a half dozen "hits" on it's hands.
BigSquidRC/Leisure Hours Raceways Bash-A-Palooza went off last weekend without a hitch. Editor to the stars Brian S. ran a good program, and all the bashers in attendance seemed to have a great time going big and meeting other rc'ers. Huge thanks to all those that attended, Leisure Hours Raceways, and to all the events sponsors.
Word from those that cut the checks around here is that two more BigSquidRC events are in the works. Crawl-A-Palooza will showcase extreme rc rock crawling and is just beginning to come together. Take a normal gnarly rock course, throw in an 10 foot vertical drop and a string section, and you've got the makings for the most extreme crawling course ever. The second event, is also in the early planning stages. We'll keep you informed as we get more information on these events.
How about that Ricky James? Who the hell is Ricky James you ask? Well, back in the day, he was a uber fast KTM factory motocross shoe. Ricky had to give up 2 wheels, and now he's winning races on 4 in the Lucas Oil Off-Road Series. Oh, and in his free time, he's out kicking a$$ in Ironman competitions, racing the Baja 500, and winning medals at the X-Games. Not bad for a 20 year old, especially one who no longer has the use of his legs. Props to you Ricky, I wish everyone had the heart and desire that you have.
Our Traxxas Slash LiPo Battery Shootout was a huge success. But, of course some of the keyboard mashing crowd had a few complaints. The largest complaint was, "Why didn't we use similar capacity battery packs for the test?". The answer is very simple- we didn't ask the battery manufactures for a certain size pack, we asked them to submit whatever Li-po they thought would perform best under out test criteria in a Slash. The Slash was selected as the test platform simply because it's the best selling truck on the market right now. There simply are more consumers looking for a battery pack for their Slash than any other rc car/truck.
That's it for this week, so keep supporting your local tracks and LHS's.
Your Cub Reporter